Befitting Emblems of Adversity
Posted in Symposia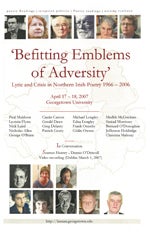 Forty years ago, the publication of Seamus Heaney's Death of a Naturalist sounded the first notes of a new generation of Irish poets. Shortly thereafter, these notes were challenged in the public sphere by the harsher sounds of sectarian faction. How poetry managed not only to preserve its own domain and dignity in the midst of such turmoil, but did so in a manner that gained the sympathetic attention of a worldwide audience is the topic of the 2007 Lannan Literary Symposium.
Additional Sponsors: Lannan Foundation, The Arts Council of Northern Ireland, Queen's University, National Geographic Society, The Department of Culture, Arts, and Leisure (Northern Ireland), Office of the College Dean and Department of English
---
 Schedule of Events
TUESDAY, APRIL 17
Symposium I: Reception Politics
11:00 AM– 12:15 PM | Copley Formal Lounge
The history and tendencies of the ways in which Northern Irish poetry has been received within the Anglophone critical establishments. Participants: Frank Ormsby, Bernard O'Donoghue, Cóilín Owens and Jefferson Holdridge (moderator).
Symposium II: Theories of Witness, Subjects of Trauma: Writing Violence
2:00 – 3:30 PM | Copley Formal Lounge
The cultural authority and social relevance of poetry as a source of testimony and medium of record. Participants: Gerald Dawe, Greg Delanty, Christina Hunt Mahony and Nicholas Allen (moderator).
Names and Places: Readings by Frank Ormsby and Greg Delanty
4:00 – 5:00 PM | Copley Formal Lounge
Keynote Lecture: Yeats, MacNeice and the 'Troubles' Lyric
7:00 – 8:00 PM | Copley Formal Lounge
Edna Longley addresses tradition and form in the genesis of Northern Irish poetry.
At Home in the World: Readings by Gerald Dawe and Bernard O'Donoghue
8:30 – 9:30 PM | Copley Formal Lounge
WEDNESDAY, APRIL 18
Video Dialogue: Sing Yourself to Where the Singing Comes From
11:00 – 11:30AM | ICC
Seamus Heaney in conversation with Dennis O'Driscoll. Video recording made at Dublin, Ireland, March 1, 2007.
Symposium III: Lyric and Crisis
11:30AM – 1:00PM | ICC
The availability of the lyric mode to the historical moment, and the pressure on the form exerted by that moment. Is there a center that holds? How might it be identified and spoken of? Participants: Ciarán Carson, Michael Longley, Paul Muldoon, Medbh McGuckian, & Patrick Crotty (moderator).
Lyric Renewed: New Poetry from Northern Ireland
2:45 – 4:00PM | Copley Formal Lounge
Sinéad Morrisey, Leontia Flynn and Nick Laird share their work.
To Exalt a Lonely Mind: Readings by Ciaran Carson, Michael Longley, Medbh McGuckian & Paul Muldoon
7:30 – 9:00 PM | National Geographic Society
---
April 17, 2007 | Symposium I: Reception Politics
April 17, 2007 | Symposium II: Theories of Witness, Subjects of Trauma: Writing Violence
April 17, 2007 | Names and Places: Readings from Frank Ormsby and Greg Delanty
April 17, 2007 | Edna Longley: "Yeats, MacNeice and the 'Troubles' Lyric"
April 17, 2007 | At Home in the World: Readings by Gerald Dawe and Bernard O'Donoghue"
April 18, 2007 | Video Dialogue: Sing Yourself to Where the Singing Comes From
April 18, 2007 | Video Dialogue: Sing Yourself to Where the Singing Comes From & Symposium III: Lyric and Crisis
April 18, 2007 | Lyric Renewed: New Poetry from Northern Ireland