Jefferson Holdridge
Posted in Past Guests | Tagged G-M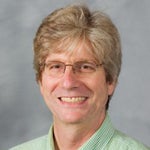 Jefferson Holdridge was born in White Plains, New York, in 1958, raised in Connecticut and educated in California and Ireland. On faculty at Wake Forest University, he is Director of Wake Forest University Press. He has held research fellowships from University College Dublin and Queen's University Belfast, and has lectured at universities in Japan, Romania, and Ireland. Widely published on American and Irish literature, he is author of Those Mingled Seas: The Poetry of W.B. Yeats, the Beautiful and the Sublime (UCD Press, 2000). Books on Nature, Landscape and Irish Poetry, and on the poetry of Paul Muldoon, are currently in preparation.
---
Ferragosto
From hill to sea, they face
The twilight. The landscape pulls
Beyond, before the church.
Faith lasts in rituals
Sprung from sense of place,
Surviving every schism
Between the native song
And breast of what's alive.
Waves and hillsides glow.
Shadows grow long.
A dove on its hidden perch
Sings in sad rhythm,
And mystifies the drive―
A great stained-glass window.
Who cares if cultures die
Wane, change form?
The summer evening's warm.
Restless Madonnas waver.
Candles are raised high
Like crests upon the sea.
The voices have their savour.
---
Links
---
Media
Befitting Emblems of Adversity | April 17, 2007
Symposium I: Reception Politics