Folger Shakespeare Library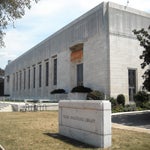 The Folger Shakespeare Library, opened in 1932, is home to the world's largest collection of Shakespeare materials, as well as major collections of other rare Renaissance texts. It is a world-renowned research center on Shakespeare and on the early modern age in the West; its well-known public programs include plays, concerts, literary readings, family activities, and exhibitions.
Inspired by the Folger's long-time relationship with Georgetown University, Lannan Center and the Folger have collaborated on a number of programs, such as the 2003 Symposium Societies of American Poetry: Dissenting Practices and the Lannan Fellowship Program. Learn more about the Folger Library.