Ciarán Carson
Posted in Past Guests | Tagged A–F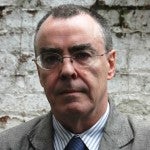 Ciarán Carson was born in Belfast in 1948 and educated at Queen's University there. He worked for the Arts Council of Northern Ireland from 1975 to 1998, with responsibility for Traditional Music and Literature. A musician himself, he has published two books on Irish traditional music, The Pocket Guide to Traditional Music (1986) and Last Night's Fun (1997). In 2003 he was appointed Professor of Poetry and Director of the Seamus Heaney Centre for Poetry at Queen's University.
His collections of poetry include The Irish for No (1987); Belfast Confetti (1989), which received the Irish Times Literature Prize; First Language (1993), which was awarded the T.S. Eliot Prize; and The Twelfth of Never (1998). His most recent volume of poetry is Breaking News (2003). Among his prose works are The Star Factory (1997), Fishing for Amber (2000) and Shamrock Tea (2001). His translation of Dante's Inferno appeared in 2002 and, from the Irish of Brian Merrimam, Cúirt an Mheán Oíche (The Midnight Court) in 2005. A translation of the Old Irish epic Táin Bó Cuailgne is forthcoming. He is a member of Aosdána.
---
Fear
I fear the vast dimensions of eternity.
I fear the gap between the platform and the train.
I fear the onset of a murderous campaign.
I fear the palpitations caused by too much tea.
I fear the drawn pistol of a rapparee.
I fear the books will not survive the acid rain.
I fear the ruler and the blackboard and the cane.
I fear the Jabberwock, whatever it might be.
I fear the bad decisions of a referee.
I fear the only recourse is to plead insane.
I fear the implications of a lawyer's fee.
I fear the gremlins that have colonized my brain.
I fear to read the small print of the guarantee.
And what else do I fear? Let me begin again.
---
Links
---
Media
Reading | March 2, 2009
Befitting Emblems of Adversity | April 18, 2007
Video Dialogue: Sing Yourself to Where the Singing Comes From
& Symposium III: Lyric and Crisis