Paul Muldoon
Posted in Past Guests | Tagged G-M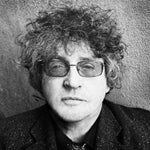 Paul Muldoon was born in County Armagh in 1951 and educated at Queen's University, Belfast. He worked for B.B.C. Radio, Northern Ireland, from 1973 to 1986. He is Howard G.B. Clark '21 Professor of the Humanities and Creative Writing at Princeton University and an Honorary Fellow of Hertford College, Oxford. Among his collections of poetry are New Weather (1973), Why Brownlee Left (1980), Meeting the British (1987), Madoc: A Mystery (1990), which received the Geoffrey Faber Memorial Prize, The Annals of Chile (1994), which received the T.S. Eliot Award, Moy Sand and Gravel, which was awarded the Pulitzer Prize and the Griffin Prize for Excellence in Poetry. His most recent collection is Horse Latitudes (2006). He has also received the Shakespeare Prize (2004) and the Aspen Prize for Poetry (2005). Other works include libretti Shining Brow (1992), Bandanna (1998), Vera of Las Vegas (2001) and The Antient Concert (2005); General Admission (2006), a collection of song lyrics; the anthologies The Faber Book of Contemporary Irish Poetry (1986) and The Faber Book of Beasts (1997); and translations of Aristophanes' The Birds (1999) and of Irish poems of Nuala Ní Dhomhnaill, The Astrakhan Cloak (1992). His criticism has been collected in two volumes, To Ireland, I (2000) and The End of the Poem (2006). He is a Fellow of the Royal Society of Literature and of the American Academy of Arts and Letters.
---
The Sightseers
My father and mother, my brother and sister
and I, with uncle Pat, our dour best-loved uncle,
had set out that Sunday afternoon in July
in his broken-down Ford
not to visit some graveyard — one died of shingles,
one of fever, another's knees turned to jelly —
but the brand-new roundabout at Ballygawley,
the first in mid-Ulster.
Uncle Pat was telling us how the B-Specials
had stopped him one night somewhere near Ballygawley
and smashed his bicycle
and made him sing the Sash and curse the Pope of Rome.
They held a pistol so hard against his forehead
there was still the mark of an O when he got home.
---
Links
---
Media
Befitting Emblems of Adversity | April 18, 2007
Video Dialogue: Sing Yourself to Where the Singing Comes From &
Symposium III: Lyric and Crisis