Nick Laird
Posted in Past Guests | Tagged G-M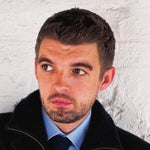 Nick Laird was born in Cookstown, Country Tyrone, Northern Ireland, in 1975 and is a graduate of Cambridge University, where he won the Quiller-Couch Award for creative writing. He also studied at the College of Law, London and was a visiting Fellow at Harvard University in 2003. His first book of a poetry, To a Fault (2005), received a number of awards, including the Rooney Prize for Irish Literature. His first novel, Utterly Monkey (2005), received the Society of Authors' Betty Trask Award for best first novel. His essays and reviews have appeared in such publications as the London Review of Books, The Guardian and the Times Literary Supplement. Two new books, On Purpose, a collection of poetry, and Glover's Mistake, a novel, are forthcoming.
---
Epithalamium
You're beeswax and I'm birdshit.
I'm mostly harmless. You're irrational.
If I'm iniquity then you're theft.
One of us is supercalifragilistic.
If I'm the most insane disgusting filth
you're hardly curiosa.
You're bubblewrap to my fingertips.
You're winter sleep and I'm the bee dance.
And I am menthol and you are eggshell.
When you're atrocious I am Spellcheck.
You're the yen. I'm the Nepalese pound.
If I'm homesteading you're radical chic.
I'm carpet shock and you're the rail.
I'm Memory Foam Day on Price-Drop TV
and you're the Lord of Misrule who shrieks
when I surface in goggles through duckweed,
and I am Trafalgar, and you're Waterloo,
and frequently it seems to me that I am you,
and you are me. If I'm the rising incantation
you're the charm, or I am, or you are.
---
Links
---
Media
Befitting Emblems of Adversity | April 18, 2007
Lyric Renewed: New Poetry from Northern Ireland