Leontia Flynn
Posted in Past Guests | Tagged A–F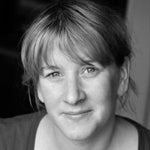 Leontia Flynn was born in 1974 in County Down, Northern Ireland and educated at Queen's University, Belfast. In 2001 she received an Eric Gregory Award from the Society of Authors, and in 2004 These Days won the Forward Prize for best first collection. On the basis of this work she was named one of twenty "Next Generation" poets by the Poetry Book Society. She is currently a research fellow at the Seamus Heaney Centre for Poetry at Queen's University, where she is preparing her doctoral thesis on the poetry of Medbh McGuckian for publication.
---
Don't Worry
Don't worry about the government
or this world of pain
or the flood-water which may come inching
from the swollen river, over distant fields.
My heart is knocking
against the wall of my chest
and my womb is knocking
against the wall of my groin
and black shadows may come inching
round my eyes – but don't worry
about famine or war – here in our world
of love. Okey dokey?
---
Links
---
Media
Befitting Emblems of Adversity | April 18, 2007
Lyric Renewed: New Poetry from Northern Ireland