Blueprint for Accountability
Posted in Symposia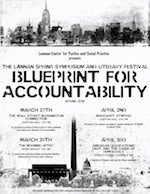 In the wake of 2008's Global Financial Crisis, the American public came to recognize the gaping disconnect between their interests and those of the politicians representing them in Congress and City Hall, and the financial brokers managing their life savings on Wall Street. As the car industry and banks received bailouts and predatory lenders continued to roam without retribution, it became apparent that the checks and balances system meant to protect everyday American citizens had broken down; and in the subsequent years of high unemployment and low morale, people became more vocal in their demand for a new system of accountability.
The 2012 Lannan Spring Symposium and Literary Festival Blueprint for Accountability will discuss the disintegration of America's trust in public institutions and the following call for action, particularly in the form of the Occupy movement.
---
Participants
Margaret Atwood
Van Jones
Michael Kazin
Jesse LaGreca
Heather McGhee
Eliot Spitzer
Ron Suskind
Matt Taibbi
Barbara Wien
---
Schedule of Events
The Wall Street-Washington Connection
March 27 | Gaston Hall | 7:00 PM Doors open at 6:30 pm.
Co-presented with Culture Project, this multimedia experience will confront the economic crisis in the US and provoke fresh dialogue about the role of financial and corporate powers in the political and democrative life of this country.
Featuring a panel moderated by MSNBC's Karen Finney, and with participation from former New York Governor and Attorney General Eliot Spitzer, contributing editor to Rolling Stone Magazine Matt Taibbi, Pulitzer-Prize winning author Ron Suskind, author, activist and Think Tank Fellow Van Jones, Occupy Wall Street activist and writer for Daily Kos Jesse LaGreca and Demos Executive Director (DC Office) Heather McGhee.
Dramatic readings to be performed by Steven Pesquale (Rescue Me), Anna Khaja (True Blood) and Charles Parnell (NCIS).
The Morning After
March 28 | Riggs Library | 9:30 AM
A conversation with Ron Suskind and Heather McGhee, moderated by Professor Henry Schwarz. Buffet breakfast available at 9:00 AM.
PAYBACK
March 29 | New South Screening Room | 7:00 PM
Screening of Jennifer Baichwal's PAYBACK, the documentary inspired by Margaret Atwood's book Payback: Debt and the Shadow Side of Wealth.
Arrive early, limited seating available.
Margaret Atwood
April 2 | Gaston Hall | 8:00 PM Doors open at 7:30 PM.
Open to the public. No ticket required.
A reception and book signing will follow in Copley Formal Lounge.
American Occupations: Debt and the Crisis of Democracy
April 3 | Copley Formal Lounge | 11:00 AM
Keeping with the spirit of BLUEPRINT FOR ACCOUNTABILITY, this event will bring together progressive and socially conscious groups, intellectuals, and activists to address the urgency and necessity of the Occupy movement. Lannan Center will host a discussion, open to campus and DC community members, on the revival of participation and activism surrounding the Occupy movement. Confirmed participants include Occupy Wall Street activist and writer for Daily Kos, Jesse LaGreca and Georgetown University Professors Michael Kazin from the History Department and Barbara Wein from Justice and Peace Studies.
This is a Matters of Urgency event.
---
Media




March 28, 2012 | The Morning After