America from the Outside
Posted in Symposia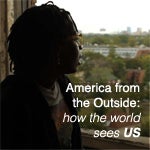 With an eye towards the recent conflicts in countries near and far, the role of America in world politics has come into question more and more frequently. As McLuhan's vision of a global village becomes a more and more tangible reality, the cultural imperialism of the United States as well as its effects on the village inhabitants must be examined all the more closely.
The 2013 Lannan Spring Symposium and Literary Festival America from the Outside: How the World Sees US will explore and question the perception of the United States and its various cultures both within and without its borders by looking at poetry, photography, film, journalism, and literature that questions what "America" means as a concept, country, and culture.
---
Participants
Naomi Ayala
Medea Benjamin
Wafaa Bilal
Heidi Ewing
Chris Hedges
Naomi Klein
Avi Lewis
Dinaw Mengestu
Trevor Paglen
Abdourahman Waberi
---
Schedule of Events
Screening of Detropia
March 26 | Car Barn 201 | 2:00 PM
Screening of Heidi Ewing and Rachel Grady's Detropia (2012), winner of the U.S. Documentary Editing Award and nominated for the Grand Jury Prize at Sundance. Q&A with Heidi Ewing to follow.
Naomi Klein & Avi Lewis: "The (R)evolutionary Power of Climate Change"
April 2 | Gaston Hall | 7:00 PM Doors at 6:30 PM
Open to the public. No ticket required.
Introduced and moderated by Andria Wisler, Executive Director at Georgetown University's Center for Social Justice Research, Teaching and Service. A reception and book-signing will follow in Copley Formal Lounge.
America the Beautiful
April 3 | Copley Formal Lounge | 11:00 AM
Wafaa Bilal, Heidi Ewing, and Trevor Paglen present their work. Introduced by Bernie Cook, Associate Dean and Director of the Film and Media Studies Program. Continental breakfast available at 10:30 AM.
Of Thee, We Write
April 3 | Copley Formal Lounge | 2:00 PM
Readings from Naomi Ayala, Dinaw Mengestu, and Abdourahman Waberi. Introduced by Professor Maurice Jackson, History and African-American Studies and Affiliated Professor of Performing Arts.
E Pluribus Plures
April 3 | ICC Auditorium | 3:30 PM
A roundtable discussion with all symposium participants. Moderated by Professor Matthew Tinkcom, Associate Dean of Academic Affairs, Graduate Program in Communication, Culture, and Technology, and Associated Faculty with the Department of English
Chris Hedges: Days of Destruction, Days of Revolt
April 3 | Lohrfink Auditorium | 7:00 PM Doors at 6:30 PM
Open to the public. No ticket required.
Introduction and discussion led by Barbara Feinman Todd, Journalism director and Co-Director of the Pearl Project. A tribute to Medea Benjamin and Code Pink will open the evening. A reception and book signing will follow in Fisher Colloquium.
---
Media
April 2, 2013 | The (R)evolutionary Power of Climate Change
April 3, 2013 | America the Beautiful
April 3, 2013 | Of Thee, We Write
April 3, 2013 | E Pluribus Plures
April 3, 2013 | Days of Destruction, Days of Revolt