Naomi Klein
Posted in Past Guests | Tagged G-M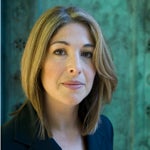 Born in Montreal, Naomi Klein is a social activist, journalist, syndicated columnist, author of several books, and fellow at The Nation Institute. Her first book, No Logo: Taking Aim at the Brand Bullies was an international bestseller and translated into over 25 languages. Time Magazine called it one of the Top 100 non-fiction books published since 1923. In 2004, Klein and husband Avi Lewis released a documentary film, The Take, which followed Argentinian factory works as they took over a closed plant and began to operate it as a collective. Her most recent book, The Shock Doctrine: The Rise of Disaster Capitalism was released in 2007 and has become an international and New York Times bestseller translated into 28 languages. A former Milliband Fellow at the London School of Economics, Klein holds an honorary Doctor of Civil Laws from the University of King's College, Nova Scotia. A generous grant from The Lannan Foundation is helping to support the writing of her new book called The Message, about how the climate crisis can spur economic and political transformation.
---
from Awake, Hungry and Idle No More
I woke up just past midnight with a bolt. My six-month-old son was crying. He has a cold – the second of his short life–and his blocked nose frightens him. I was about to get up when he started snoring again. I, on the other hand, was wide awake.
A single thought entered my head: Chief Theresa Spence is hungry. Actually it wasn't a thought. It was a feeling. The feeling of hunger. Lying in my dark room, I pictured the chief of the Attawapiskat First Nation lying on a pile of blankets in her teepee across from Parliament Hill, entering day 14 of her hunger strike.
I had of course been following Chief Spence's protest and her demand to meet with Prime Minister Stephen Harper to discuss the plight of her people and his demolition of treaty rights through omnibus legislation. I had worried about her. Supported her. Helped circulate the petitions. But now, before the distancing filters of light and reason had a chance to intervene, I felt her.
---
Links
---
Media
America from the Outside: How the World Sees US | April 2, 2013
The (R)evolutionary Power of Climate Change
America from the Outside: How the World Sees US | April 3, 2013
E Pluribus Plures