Abdourahman Waberi
Posted in Past Guests | Tagged T-Z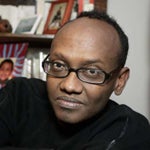 Djiboutian novelist, essayist, academic, and poet Abdourahman Waberi arrived in France in 1985 to study English literature. While in Paris, Waberi was a literary consultant for Editions Le Serpent à plumes and as a literary critic for Le Monde Diplomatique. In Caen, France, Waberi was an English teacher. Waberi's first collection of stories Le Pays Sans Ombre (1994) received the Grand Prix de la Nouvelle francophone from the Académie Royale de Langue et de Littérature Française de Belgique and the Prix Albert Bernard from the Académie des Sciences d'Outre-mer de Paris. Among his awards, Waberi counts the Stefan-Georg-Preis 2006, Heinrich-Heine-Universität, the Grand prix littéraire d'Afrique noire in 1996 and the Prix Biennal "Mandat pour la liberté," offered by PEN France, in 1998. Lire also named him one of the "50 Writers of the Future" in 2005. Waberi's work has been translated into over ten languages. Waberi also participated in the International Stock Exchange of Visions project in 2007. He currently teaches at George Washington University.
---
from Transit
Oh yah—I dropped my real name Bashir Assoweh. For six months now my name been Binladen, Moussa he choked on his coffee in plastic cup they give you. Never say that again here he say. That get the French fierce, and the English, and the Americans and even the nice Norwegians who pay the NGO's for us and keep their traps shut. But me, I like that, you say Binladen and everybody drop dead with panic like I'm real kamikaze they stop in fronta barbwire and sambags of the American Embassy in Djibouti. Binladen, dunno who he was before but anyways he look hansome. Bushy white beard with black thread, white horse not like the gray camel of our Bedouins and specially that Kalashnikov on his shoulder. His beard real-real nice but hey he not really prophet cause true prophet has no photo. In Djibouti, they said, yell "Long live Binladen" everywhere, that's how I know his name, then stop right away or else it Gabode prison for everybody, mamas, uncles, kids, everybody. But that still secret. I didn't say a thing, right? Djibouti over, Roissy here, gotta watch out sayin anything come into my head.
Continue reading "Transit" at Warscapes.
---
Links
---
Media
America from the Outside: How the World Sees US | April 3, 2013
Of Thee, We Write
America from the Outside: How the World Sees US | April 3, 2013
E Pluribus Plures