Dinaw Mengestu
Posted in Past Guests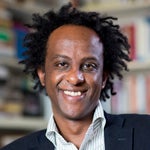 Dinaw Mengestu was born in Addis Ababa, Ethiopia, in 1978. In 1980 he immigrated to the United States with his mother and sister, joining his father, who had fled the communist revolution in Ethiopia two years before. He is a graduate of Georgetown University and of Columbia University's MFA program in fiction. He is the recipient of a 2006 fellowship in fiction from the New York Foundation for the Arts. Each of his novels–The Beautiful Things that Heaven Bears, How to Read the Air, and All Our Names–have been well received by critics across the world.
Mengestu has also reported stories for Harper's and Jane magazine, profiling a young woman who was kidnapped and forced to become a soldier in the brutal war in Uganda, and for Rolling Stone on the tragedy in Darfur. The Lannan Visiting Writer at Georgetown University for spring 2007 and a 2012 MacArthur Genius Grant recipient, Mengestu was the Lannan Foundation Chair in Poetics from 2012-2015. He lives in New York with his wife and two sons.
From The Beautiful Things That Heaven Bears
Joseph's already drunk when he comes into the store. He strolls through the open door with his arms open. You get the sense when watching him that even the grandest gestures he may make aren't grand enough for him. He's constantly trying to outdo himself, to reach new levels of Josephness that will ensure that anyone who has ever met him will carry some lingering trace of Joseph Kahangi long after he has left. He's now a waiter at an expensive downtown restaurant, and after he cleans each table he downs whatever alcohol is still left in the glasses before bringing them back to the kitchen. I can tell by his slight swagger that the early dinnertime crowd was better than usual today.
Joseph is short and stout like a tree stump. He has a large round face that looks like a moon pie. Kenneth used to tell him he looked Ghanaian.
"You have a typical Ghanaian face, Joe. Round eyes. Round face. Round nose. You're Ghanaian through and through. Admit it, and let us move on."
Joseph would stand up then and theatrically slam his fist onto the table, or into his palm, or against the wall. "I am from Zaire," he would yell out. "And you are a ass." Or, more recently, and in a much more subdued tone: "I am from the Democratic Republic of the Congo. Next week, it may be something different. I admit that. Perhaps tomorrow I'll be from the Liberated Land of Laurent Kabila. But today, as far as I know, I am from the Democratic Republic of the Congo."
–
Continue reading "The Beautiful Things That Heaven Bears" on NPR.
Links
Media
America as the "Other" | March 19, 2019
Seminar | April 21, 2015
Reading | April 21, 2015
Living in a Precarious World:
Art, Labor, and the New Economic Precarity | April 1, 2014
Writing Precarity
America from the Outside: How the World Sees US | April 3, 2013
Of Thee, We Write
America from the Outside: How the World Sees US | April 3, 2013
E Pluribus Plures
Seminar | September 25, 2012
Reading | September 25, 2012
Reading with Nuruddin Farah | September 14, 2007
Writers, Masses, Multitudes:
Liberation Movements and the Neo-Liberal World Order | February 14, 2007
The Critical Legacies of Decolonization