Let Freedom Ring
Posted in Symposia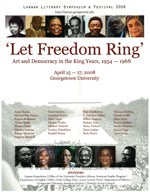 By sweeping away legal segregation in the public sphere, and especially by securing the right to participate in the democratic franchise for people of color, the Civil Rights Movement fundamentally changed American life. This struggle for social justice has been well documented and justly honored.
Less well-documented is how the arts helped sustain the Movement and were essential to its successes. On the fortieth anniversary of the death of Dr. Martin Luther King, the Lannan Literary Symposium sought to acknowledge this legacy while paying special attention to the contributions of poets, writers, and artists to the public discourse of the Movement, especially during the period Taylor Branch has called "the King Years," 1954-1968.
Additional Sponsors: the Office of the University President, Program in African American Studies, Office of the College Dean, Department of English, Department of History, Lacay Lecture Fund, Diversity Action Council and Georgetown University Americas Initiative.
---
Participants
---
Schedule of Events
Tuesday, April 15
Welcome and Plenary Lecture: "'Woke Up This Morning': the Creativity of the Freedom Songs."
5:00 PM – 6:00 PM
Vincent Harding explores the artistry of the songs used to inspire and to sustain participants in the Civil Rights Movement while also serving to narrate the Movement's goals.
Opening Reception
6:00 PM – 7:00 PM
Identity: A reading by Amiri Baraka, Eugene Redmond, and Haki Madhubuti
8:00 PM – 9:30 PM
Reception and book-signing will follow.
Open Mic: "We Who Believe in Freedom"
10:00 PM – 11:00 PM
Wednesday, April 16
SYMPOSIUM I: Art and Democracy in the King Years and Beyond: Scholarly Assessments
9:30 AM – 11:45 AM
Scholars assess the artistic production of the years of the Civil Rights Movement. What is the role of the arts in times of social and political upheaval? Joanne Gabbin, Aldon Nielson, Sandra Shannon, Valerie Smith, Eleanor Traylor, Ekwueme Michael Thelwell, and Jabari Asim (moderator).
SYMPOSIUM II: Creativity, Resistance, Liberation: Forms of Political Engagement in the Arts of the 1960s
1:00 PM – 3:15 PM
Advancing resistance and liberation through the arts—especially drama and poetry. Is all art propaganda, as DuBois held? With the writers Sonia Sanchez, E. Ethelbert Miller, Amiri Baraka, Barbara Teer, Haki Madhubuti, and Soyica Diggs (moderator).
2008 Lacay Plenary Lecture: "Art as a Form of Politics"
3:45 PM – 5:00 PM
Amiri Baraka considers the ways in which artists are political, and how politics is used in art.
Ethics: a reading by Sonia Sanchez, E. Ethelbert Miller, and Askia Touré
8:00 PM – 10:00 PM
Reception and book-signing will follow.
OPEN MIC: "I Have a Dream"
10:00 PM – 11:00 PM
Thursday, April 17
SYMPOSIUM III: Living History: Activists on Art and Social Justice
9:30 AM – 12:00 PM
Political activists discuss their personal engagement with poetry, plays, songs, and narrative during the Civil Rights Movement. Panelists: Lawrence Guyot, Ivanhoe Donaldson, Charles Cobb, Walter Fauntroy, Dorie Ladner, Ruth Harris and Maurice Jackson (moderator).
Luncheon and Plenary Lecture: "Music of Struggle"
12:15 PM – 1:45 PM
Ruth Harris reflects on the activism of community-building through song.
SYMPOSIUM IV: Advancing American Ideals: Democracy as a Goal for the Arts
2:15 PM – 4:30 PM
Writers consider how American ideals—such as freedom, citizenship, & democracy—have informed artistic production and reception. Panelists: Randall Kenan, Askia Touré, Thulani Davis, Eugene Redmond, Jayne Cortez and Robert Patterson (moderator).
Plenary Lecture: "'A Change Is Gonna Come'? Art and the Politics of the Black Possible"
5:00 PM – 6:15 PM
Michael Eric Dyson on art's generative capacities.
Community: a reading by Randall Kenan, Thulani Davis, Barbara Teer, and Jayne Cortez.
8:00 PM – 10:00 PM
Reception and book-signing will follow.
OPEN MIC: "Make Some Noise"
10:00 PM – 11:00 PM
---
Media
April 14, 2008 | Welcome and Plenary Lecture: "'Woke Up This Morning': the Creativity of the Freedom Songs"
April 16, 2008 | SYMPOSIUM I: Art and Democracy in the King Years and Beyond: Scholarly Assessments
April 16, 2008 | SYMPOSIUM II: Creativity, Resistance, Liberation: Forms of Political Engagement in the Arts of the 1960s
April 17, 2008 | SYMPOSIUM III: Living History: Activists on Art and Social Justice
April 17, 2008 | SYMPOSIUM IV: Advancing American Ideals: Democracy as a Goal for the Arts
April 17, 2008 | Plenary Lecture: "'A Change Is Gonna Come'? Art and the Politics of the Black Possible"