Mark McMorris
Posted in Past Guests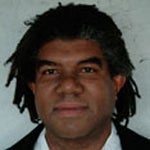 Mark McMorris was born in Kingston, Jamaica and educated at Columbia University and Brown University. He is the author of numerous books of poetry including The Book of Landings (Wesleyan, 2016); Entrepôt (Coffee House Press, 2010); The Café at Light (Roof Books, 2004); and The Blaze of the Poui (2003), which was selected by C. D. Wright for the 2002 Contemporary Poetry Series and was also a finalist for the Lenore Marshall Poetry Prize. McMorris's collections have been praised by Charles Bernstein for their "intense, articulate, and splendid lyricism crashing against an historical and social imagination that never quite wants to be epic –- that distrusts the grandiosity of epic –- but which wants to gesture toward the epic."
His work has appeared in numerous journals and anthologies such as Ancestral House: The Black Short Story in the Americas and Europe, Xcp: Cross-Cultural Poetics, The Journal of Commonwealth and Postcolonial Studies, Conjunctions, Callaloo, Hambone, New American Writing, and An Anthology of New (American) Poets. Recently, he was writer in residence at Brown University, and in 2005 was Roberta C. Holloway Visiting Professor in Poetry at the University of California, Berkeley. He is currently a professor of English at Georgetown University, and is a former director of Georgetown's Lannan Literary Programs. He lives in Washington, D.C. with his family.
---
Dear Michael (2)
The wound cannot close; language is a formal exit
is what exits from the wound it documents.
The wound is deaf to what it makes; is deaf
to exit and to all, and that is its durable self,
to be a mayhem that torments a city. The sound
comes first and then the word like a wave
lightning and then thunder, a glance then a kiss
follows and destroys the footprint, mark of the source.
It is the source that makes the wound, the wound
that makes a poem. It is defeat that makes
a poem sing of the light and that means to sing
for a while. The soldier leans on his spear.
He sings a song of leaning; he leans on a wound
to sing of other things. Names appear on a page
gentian weeds that talk to gentian words, oral
to local, song talk to sing (Singh), and so
he goes on with the leaning and the talking.
The wound lets him take a breath for a little
because it is a cycle of sorts, a system or a wheel
a circle that becomes a wheel and is not a sound
at all, the idea of a sound and the sound again
of an idea that follows so close; say light
and then is there light or a wound, an idea of being
itself in the thing sound cancels. Is there ever a spear
a soldier that leans in, a song that he sings
waiting for a battle? This soldier is only a doorway.
Say that book is a door. I say the soldier
and the local, the word and the weed, the light
and the kiss make a mayhem and a meeting.
So then that the voice may traverse a field
it transmits the soldier on a causeway to the city
leaning on a spear and talking, just after the wound opens
that never creaks and closes, and has no final page.
–
From Entrepôt (Coffee House Press, 2010)
---
Links
---
Media
Seminar | February 7, 2017
Reading| February 7, 2017
Black Archipelago: Writing and Performance from the African Diaspora | April 12-20, 2005
Merle Collins, Kwame Dawes, Donna Hemans, and Mark McMorris Reading
Societies of American Poetry: Dissenting Practices | February 21, 2003
Border Zones
Societies of American Poetry: Dissenting Practices | March 10, 2003
Ward Tietz, Rod Smith, and Mark McMorris Symposium Response