A Dream Deferred
Posted in Symposia
April 11-12, 2016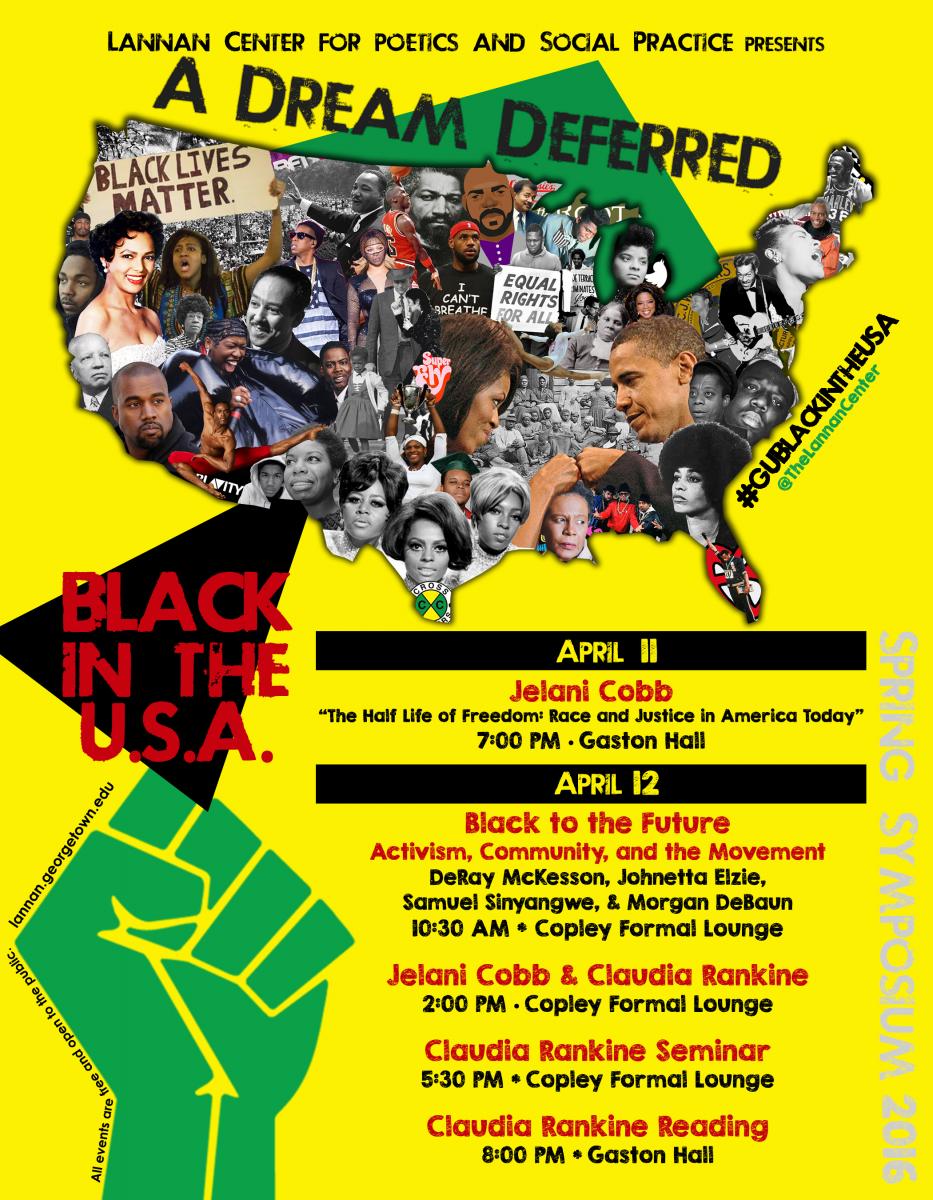 (new window)
What happens to Americans who are denied the possibility of achieving "the American Dream"? For centuries, Black Americans have been forced to reckon with their dream deferred. We, as a nation, have been questioning our acceptance of this dream. From Malcolm X to Dorothy Dandridge to James Baldwin to Harriet Tubman to Barack Obama to Kendrick Lamar and Nicki Minaj, the experience of being Black in the United States is complex and prismatic. The nation as a whole is coming to terms with the multitudinous facets of Blackness in activism, business, entertainment, philanthropy, community, and more.
Bringing together activists, writers, and movers and shakers; A Dream Deferred will examine what it means to be Black in the United States yesterday, today, and tomorrow. As many Americans need to be constantly reminded that Black Lives Matter, this symposium will take a look at what the Black experience has been and what it will become.
As Washington, D.C.'s busboy, and poet Langston Hughes once asked, "What happens to a dream deferred? Does it dry up … Or does it explode?"
All events will take place on Georgetown University's campus. They are free and open to the public.
Participants
---
 Schedule of Events
Monday, April 11
Jelani Cobb | The Half Life of Freedom: Race and Justice in America Today
7:00 PM | Gaston Hall
Opening remarks from Lannan Center and Symposium Director Carolyn Forché and Lannan Foundation Visiting Chair of Poetics Aminatta Forna, followed by an address from writer Jelani Cobb. Cobb's presentation will be followed by a short discussion between him and Aminatta Forna and a brief Q&A.
Reception to follow on Healy's second-floor corridor.
Tuesday, April 12
Black to the Future: Activism, Community, and the Movement
10:30 AM | Copley Formal Lounge
A roundtable moderated by Professor Marcia Chatelain. Featuring DeRay Mckesson, Johnetta Elzie, and Samuel Sinyangwe of Campaign Zero as well as Morgan DeBaun, founder of Blavity.
Jelani Cobb & Claudia Rankine
2:00 PM | Copley Formal Lounge
Cobb and Rankine in conversation, with Professor Marcia Chatelain acting as interlocutor.
Claudia Rankine Seminar
5:30 PM | Copley Formal Lounge
Lannan Center's Readings and Talks series takes place as part of the closing events for this year's symposium with a seminar featuring writer Claudia Rankine. This seminar will take place in Copley Formal Lounge, as a special exception.
Claudia Rankine Reading
8:00 PM | Gaston Hall After an opening from poet Carolyn Forché, Claudia Rankine will read from her work. There will be no Q&A after her reading.
---
April 12, 2016 | Black to the Future: Activism, Community, and the Movement
April 12, 2016 | Claudia Rankine Seminar
April 12, 2016 | Claudia Rankine Reading