Claudia Rankine
Posted in Past Guests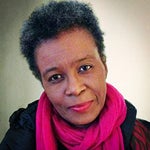 Claudia Rankine is the author of Citizen: An American Lyric, Don't Let Me Be Lonely, and Nothing in Nature is Private, among others. She won the PEN Open Book Award and National Book Critics Circle Award for Poetry—for Citizen, the first book ever to be named a finalist in both the poetry and criticism categories. In 2014 she was a National Book Award Finalist, and received Poets & Writers' Jackson Poetry Prize. Citizen also holds the distinction of being the only poetry book to be a NY Times bestseller in the nonfiction category. Rankine co-edited the anthologies The Racial Imaginary: Writers on Race in the Life of the Mind and American Women Poets in the 21st Century: Where Lyric Meets Language, and her work is included in several anthologies, including Great American Prose Poems: From Poe to the Present, Best American Poetry 2001, Giant Step: African American Writing at the Crossroads of the Century, and The Garden Thrives: Twentieth Century African-American Poetry.
---
From Citizen
When the stranger asks, Why do you care? you just stand there staring at him. He has just referred to the boisterous teenagers in Starbucks as niggers. Hey, I am standing right here, you responded, not necessarily expecting him to turn to you.
He is holding the lidded paper cup in one hand and a small paper bag in the other. They are just being kids. Come on, no need to get all KKK on them, you say.
Now there you go, he responds.
The people around you have turned away from their screens. The teenagers are on pause. There I go? you ask, feeling irritation begin to rain down. Yes, and something about hearing yourself repeating this stranger's accusation in a voice usually reserved for your partner makes you smile.
—
Continue reading Citizen on The Poetry Foundation's website.
---
Links
---
Media
A Dream Deferred: Black in the U.S.A. | April 12, 2016
Claudia Rankine Seminar
A Dream Deferred: Black in the U.S.A. | April 12, 2016
Claudia Rankine Reading