Aminatta Forna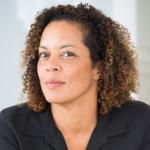 Aminatta Forna was born in Scotland, raised in Sierra Leone and Great Britain, and spent periods of her childhood in Iran, Thailand and Zambia. She is the award-winning author of the novels Happiness (2018), The Hired Man (2013), The Memory of Love (2011), and Ancestor Stones (2006). She is also the author of the memoir The Devil that Danced on the Water (2002).
Forna's books have been translated into eighteen languages. Her essays have appeared in Freeman's, Granta, The Guardian, LitHub, The Nation, The New York Review of Books, The Observer, and Vogue. She has written stories for BBC radio and written and presented television documentaries including "The Lost Libraries of Timbuktu" (BBC Television, 2009) and "Girl Rising" (CNN, 2013).
In 2003, Forna established the Rogbonko Project to build a school in a village in Sierra Leone. The charity has also run a number of projects in the spheres of adult education, sanitation and maternal health.
Her honors include a Windham Campbell Award from Yale University, the Commonwealth Writers' Prize Best Book Award 2011, and a Hurston Wright Legacy Award, among others. She has been a finalist for the Neustadt Prize for Literature, the Orange Prize for Fiction, the IMPAC Award, and the Warwick Prize. Forna was made OBE in the Queen's New Year's Honours 2017.
She is currently Director and Lannan Foundation Chair of Poetics at Lannan Center for Poetics and Social Practice at Georgetown University. 
---
From The Hired Man
September 2007
At the time of writing I am forty-six years old. My name is Duro Kolak.
Laura came to Gost in the last week of July. I was the first to see her the morning she drove into town. From the hillside you have a view of the road, one of the three that lead into town: the first comes direct from the north, the second and third from the south-east and the south-west respectively. The car was on the road that comes from the south-west, from the coast. An early sun had burned off most of the mist and on a day like this the deer might be encouraged to leave the woods and come down the hill, so I'd turned back to fetch my rifle even though it was not the season to hunt.
I'd chosen my spot and laid out my breakfast. On the branch of a tree a collared dove rested out of view of the falcon soaring above. I trailed the bird lazily through my rifle sights and that was when I noticed the car. A large, newish four-wheel drive, being driven very slowly down an entirely empty road as though the driver was searching for a concealed entrance. I lowered the gun so that I had the vehicle fully in my sights but the angle and reflection of the sun made it impossible to see who was driving.
---
Links
---
Media
Aminatta Forna in Conversation with Sharon Gelman | September 25, 2018
Seminar with Marlon James and John Freeman | September 23, 2016
Reading with Marlon James and John Freeman | September 23, 2016
Conversation with John Freeman | November 17, 2015
Reading | October 27, 2015