Johnetta Elzie
Posted in Past Guests | Tagged A–F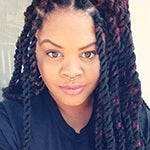 Johnetta Elzie is an organizer with We the Protestors and Amnesty International. With DeRay Mckesson, Brittany Packnett, and Samuel Sinyangwe, she co-founded Campaign Zero, which seeks to end police violence in America. She is co-editor of This Is the Movement newsletter, and her writing has appeared in a number of publications, including Essence, Wall Street Journal, and Al Jazeera. Born and raised in St. Louis, Elzie is known for documenting the events of Ferguson on Twitter, starting in August 2014. She has been awarded the Howard Zinn Freedom to Write Award with fellow activist DeRay Mckesson for their creation of the #Ferguson Protestor Newsletter, and been named to Fortune and The Root's 100 Most Influentials lists in 2014 and 2015.
---
from "When I close my eyes at night, I see people running from tear gas"
Trauma is commonly defined as a deeply distressing or disturbing experience. Recently, I came to understand what that really means.
On the night of August 9th, I went to Canfield Drive, where Mike Brown, Jr. was gunned down in the street by Ferguson police officer Darren Wilson. The heavy police presence from earlier in the day had thinned out by the time I arrived. Standing on a street I visited many times youth and seeing this teenager's blood on the ground is an experience that will likely haunt me for the rest of my life.
His blood on the ground cried out to us. His blood was the call to action.
The next day, a few hundred people gathered in front of the Ferguson Police Department's new million dollar headquarters to peacefully protest. The crowd was filled with people from all walks of life. We marched on the station's grounds, past officers and into and out of the building yelling phrases like "HANDS UP! DON'T SHOOT!" I could feel the tension in the air. Everyone was angry. I was angry. Being among such a large group of people–some strangers and others, familiar faces–I was not afraid of standing with them. The anxiety and fear grew inside of me as more and more police officers arrived to the station from different municipalities, including the K-9 unit.
Continue reading "When I close my eyes at night, I see people running from tear gas" at EBONY.
---
Links
---
Media
A Dream Deferred: Black in the U.S.A. | April 12, 2016
Black to the Future: Activism, Community, and the Movement