Samuel Sinyangwe
Posted in Past Guests | Tagged N-S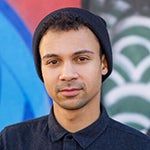 Samuel Sinyangwe is a policy analyst and data scientist who works with communities of color to fight systemic racism through cutting-edge policies and strategies. Sam has supported movement activists across the country to collect and use data as a tool for fighting police violence through Mapping Police Violence and to launch Campaign Zero, a comprehensive platform to end police violence. Previously, Sam worked at PolicyLink to support a national network of 61 Promise Neighborhoods communities to build cradle-to-career systems of support for low-income families. He also worked with city leaders, youth activists, and community organizations to develop comprehensive agendas to achieve quality education, health, and justice for young black men. Sam grew up in Orlando, FL, and has been involved in organizing and advocacy since he was in high school. He graduated from Stanford University in 2012, where he studied how race and racism impact the U.S. political system.
---
from Stop Pretending the 'Ferguson Effect' is Real
The second premise of the "Ferguson Effect" references a spike in violent crime across the nation. Again, the facts do not support this claim. Analyses by the Marshall Project and the Justice Department have found no evidence that violent crime has significantly increased among the nation's largest cities. In fact, 2015 has been one of the safest years in the past two decades. Proponents of the "Ferguson Effect" may counter that crime has increased in cities that have experienced substantial unrest such as St. Louis. While crime has increased in St. Louis, this rise was already underway before the Ferguson protests. Meanwhile, a number of other cities that have experienced sustained protests such as Washington DC, Oakland, and Seattle have seen crime decrease or remain level. As such, fears of a national "crime spike" are not based in reality.
Continue reading "Stop Pretending the 'Ferguson Effect' is Real" at Huffington Post.
---
Links
---
Media
A Dream Deferred: Black in the U.S.A. | April 12, 2016
Black to the Future: Activism, Community, and the Movement