We're In This Thing Together
Posted in Symposia
---
April 9-10, 2018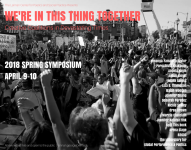 Literature is often viewed as being produced out of a solitary act of creation, while politics is seen as public and collective. This symposium showcases those working in and on the collective to sustain creative work in times of great political precarity.  Every panel and keynote stages not an individual author but a conversation about artistic and political practice as they happen through collaboration, creativity, and community.  We ask: At a time of deep political crisis that directly threatens lives and the support of the arts, how can we make sure to emphasize not just a few but the many who have struggled and continue to struggle to make sure that the arts are accessible to readers, writers, and activists from the most vulnerable groups? This year's symposium emphasizes
the collective force of creativity for our political actions and cultural imaginations.
– Sam Pinto, Symposium Director
---
Participants
Keeanga Yamahtta-Taylor
Porochista Khakpour
Jacob Siegel
Malik Gaines
Lisa B. Thompson
Isaiah Wooden
Sally Wen Mao
Deborah Paredez
Nicole Sealey
drea brown
Marcia Chatelain
Jennifer Natalya Fink
Split This Rock
826DC
PEN/Faulkner
The Laboratory for Global Performance & Politics
---
Schedule of Events
Monday, April 9
5:00 PM | Is the Alt-Right Over?
Jacob Siegel and Dr. Jennifer Rosales, Center for Social Justice (CSJ)
Introduction by Amanda Phillips, Department of English and Film and Media Studies
Copley Formal Lounge
7:30 PM (doors open at 7:00 PM) | Keynote Conversation with Keeanga-Yamahtta Taylor
Introduction by Dr. Rosemary Ndubuizu, African American Studies
Moderated by Marcia Chatelain, History and African American Studies
Gaston Hall
Please note that no backpacks will be permitted in Gaston Hall. All bags subject to inspection.
Please RSVP
Tuesday, April 10
All Events in Copley Formal Lounge
9:00 AM | Coffee & Pastries
9:30 AM | Organizing Dissent: Arts Organizations in Dangerous Times
Sarah Browning (Split this Rock), Zachary Clark (826DC), and Lacey Dunham (PEN/Faulkner)
Moderated by Libbie Rifkin, English and Disability Studies
11:00 AM | Sharing the Stage: Race, Sexuality, and Performance Politics
Malik Gaines, Lisa B. Thompson, and Isaiah Wooden
Moderated by Soyica Colbert, Theatre & Performance Studies and African American Studies
2:00 PM | Creative Activism/Activist Creation: A Workshop
Introduction by Al Miner, Director & Chief Curator of GU Art Galleries/ Art and Museum Studies
Moderated by Mark Lance, Philosophy and Justice & Peace Studies
Student Facilitators: Katharine Johnson and Khadija Khan
3:30 PM | Poets Unite!: The Politics of Poetry Collectives
Sally Wen Mao (Kundiman), Deborah Paredez (CantoMundo), and Nicole Sealey (Cave Canem)
Moderated by drea brown, Visiting Assistant Professor of Women, Gender and Sexuality Studies, Goucher College
5:00 PM | Performance by the Laboratory For Global Performance & Politics
Velani Dibba, Cristina Ibarra, Benjamin Lillian, Aly Panjwani, Sarika Ramaswamy, and David Toledo (Stage Manager)
Introductions by Dinaw Mengestu (Writer/Lannan Advisory Board Member) and
Derek Goldman (Founding Director, Laboratory for Global Performance and Politics)
6:30 PM | Keynote Conversation with Porochista Khakpour
Introduction by Mariel Mendez, Student, The Hoya Writer, and DACA Activist/Dreamer
Moderated by Jennifer Natalya Fink, English
All events will take place on Georgetown University's campus. They are free and open to the public.
---
Media
---
April 9th | Is the Alt-Right Over?
April 9th | Keynote Conversation with Keeanga-Yamahtta Taylor
April 10th | Organizing Dissent: Arts Organizations in Dangerous Times
April 10th | Sharing the Stage: Race, Sexuality, and Performance Politics
April 10th | Creative Activism/Activist Creation: A Workshop
April 10th | Poets Unite!: The Politics of Poetry Collectives
April 10th | Performance by the Laboratory for Global Performance & Politics
April 10th | Keynote Conversation with Porochista Khakpour