drea brown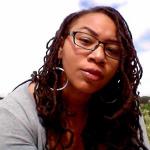 drea brown is a poet/scholar whose work has appeared in a variety of literary journals and anthologies, such as Southern Indiana Review and Stand Our Ground: Poems for Trayvon Martin and Marissa Alexander. Her chapbook, dear girl: a reckoning, winner of the Gold Line Press chapbook contest was published in 2015. A Cave Canem Fellow, and recipient of a Fresh Milk residency in Barbados, she is in the process of finalizing a poetry manuscript that furthers the journey, ghosts, and letters of Phillis Wheatley. Brown was the inaugural graduate from the African and African Diaspora Studies PhD program at the University of Texas in Austin in May 2017, and is currently a visiting assistant professor at Goucher College in Baltimore, Maryland.
---
flesh memory: an invocation in cento 
from claudia rankine's citizen and akilah oliver's she said dialogues: flesh memory, ntozake shange's for colored girls who…
the world is wrong. you can't put the past behind you.
it's buried in you; it's turned your flesh into its own cupboard
when you lay your body in the body entered as if skin and bone were public places
witness bones on the atlantic floor. chiseled faces.short
vowel sounds trapped under centuries of sediment.
when you lay your body in the body entered as if you're the ground you walk on mash potato. child. break it up.
the body's truths and realities
the multiplicity of languages
he flesh holds
what does a victorious or defeated black woman's body look like?
are we ghouls?
children of horror? the joke?
a text, a language, a mythology a truth
you know no memory should live
in these memories
becoming the body you
don't tell nobody don't tell a soul
to live out the days sometimes you moan like deer.
sometimes you sigh.
i am trying to be as honest as grief will allow. i am
trying to be saved. i am trying to sin. i am trying
to hush these tears.
somebody anybody sing a black girl's song
when you lay your body in the body
becoming the body you
sing her song of life
of infinite beauty
bring her out to know herself
when you lay your body in the body becoming you
i want you to look at these scars
and be healed.
---
Links
---
Media
Poets Unite!: The Politics of Poetry Collectives | April 10, 2018