Deborah Paredez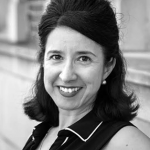 Deborah Paredez is the author of the poetry collection, This Side of Skin (2002) and the critical study, Selenidad: Selena, Latinos, and the Performance of Memory (2009). Her poems have appeared in Poetry magazine, the New York Times, Callaloo, Crab Orchard Review, Palabra, Poet Lore, and elsewhere. She is the co-founder and co-director of CantoMundo, a national organization dedicated to Latina/o poets and poetry. Paredez is Associate Professor at Columbia University. 
---
"The Gulf, 1987"
The day upturned, flooded with sunlight, not
a single cloud. I squint into the glare,
cautious even then of bright emptiness.
We sit under shade, Tía Lucia
showing me how white folks dine, the high life.
I am about to try my first oyster,
Tía spending her winnings from the slots
on a whole dozen, the glistening valves
wet and private as a cheek's other side,
broken open before us. Don't be shy.
Take it all in at once. Flesh and sea grit,
sweet meat and brine, a taste I must acquire.
In every split shell, the coast's silhouette:
bodies floating in what was once their home.
---
Links
---
Media
Poets Unite!: The Politics of Poetry Collectives | April 10, 2018