Tim Liardet
Posted in Past Guests | Tagged past guest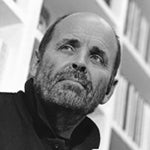 Tim Liardet has produced eleven collections of poetry to date and is Professor of Poetry at Bath Spa University. Two of his collections, The Blood Choir and The World Before Snow, have been shortlisted for the T. S. Eliot Prize. He has also published a number of pamphlets, with 2010's Priest Skear being the Poetry Book Society Pamphlet Choice for winter of that year. Liardet was Poet in Residence at The Guardian in 2006 and has performed his work on BBC Radio Three and BBC Radio Four.
---
Self-Portrait with Drag-Field and Dark
There was the dark in you, it hung over your features;
there was the dark I saw and recognised what it was;
there was the dark along the eye-line, the wilt of dark
as if it had branded a mark from inside you blindly
onto your forehead, and settled all along your mouth;
it had settled all along your bottom lip, changed its shape,
as if to inflect your countenance however brightly
your hair flashed and you shone. The dark charged
to barter with the dark in me, you belonged to someone else;
you belonged to someone else, and so did I.
We were caught, it seemed, in the star's drag-field
which meant the room very slowly started to rotate.
What began was begun at the dun, customary table
where all things must begin. The id seemed to hug
to the dark that could not be shaken from the head, and dragged
you from your costly peace. Nose to tail, the dark
lay docile at our feet, where we sat and granted one another
the cheekbone of our best profile, lit from the same side.
---
Links
---
Media
Seminar with Jennifer Militello | November 15, 2016
Reading with Jennifer Militello | November 15, 2016