Laura Tohe
Posted in Past Guests | Tagged T-Z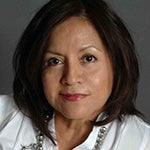 Diné (Navajo) poet, writer, and librettist Laura Tohe grew up in New Mexico and received her BA from the University of New Mexico. She later earned her MA and PhD in Creative Writing and Literature from the University of Nebraska in Lincoln. Her writing can be found in Ploughshares, New Letters, World Literature Today, and others. Making Friends with Water, her chapbook of poetry was translated into modern dance and music. Her relationship to music is also evidenced in her libretti, which include Enemy Slayer: A Navajo Oratorio, which the Phoenix Symphony world premiered in 2008. No Parole Today, her 1999 title, was named Poetry Book of the Year by the Woodcraft Circle of Native American Writers and Storytellers. Her most recent publication is an oral history of the Navajo Code Talkers, entitled Code Talker Stories. She currently teaches at Arizona State University and was named the 2015 poet laureate for the Navajo Nation, the second person to ever receive the title.
---
My Brother Shakes the Bottle
Davis is wearing his best irrelevant boots and jacket.
It's been at least a month that he's owned them.
He looks twenty years older than I
though we're only a year apart.
The faces tell us
what we already know from the border towns
about being waited on last even though
we were in line first.
Davis orders what I do.
He tries not to make waves,
not to make demands.
So he stutters to the adolescent waitress,
"Can I have some Sweet'n Low?"
On the other side of the counter,
under the fluorescent lights, sits a local
wearing a SEED cap.
Between bites, he watches us.
These faces are clues
to what drove my brother to slump on that red ant hill
in the Arizona desert
where only the sagebrush and rabbits
must have felt the earth shake a little.
In their eyes
I see the night, when anything can happen.
It is then in his room at the VA
my brother shakes the bottle
that explodes
all over
himself.
---
Links
---
Media
Native Lands | April 16, 2004
Lives, Poems, Stories Seminar
Native Lands | April 16, 2004
Lives, Poems, Stories Reading