From Activist to Terrorist
Posted in Matters of Urgency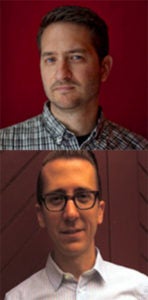 December 5, 2013
6:00 PM | New North 204
Jake Conroy and Will Potter will present and lead a discussion on how the label of "terrorist" has been applied or misapplied to activists. Jake Conroy speaks from experience, as an activist who was sentenced to four years in prison for a nonviolent campaign against Huntingdon Life Sciences. Will Potter is an award-winning journalist, author, and public speaker based in Washington, D.C. who has become a leading authority on the animal rights and environmental movements, and civil liberties post-9/11. He has previously lectured at Georgetown University about national security and related topics.
Hosted by Contemplatin in Action MAGIS Row Community and GU Fossil Free.
Co-sponsored by Lannan Center for Poetics and Social Practice, the Justice and Peace Studies Department, and the Lecture Fund.
—