Will Potter
Posted in Past Guests | Tagged N-S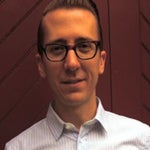 Will Potter is an award-winning journalist, author, and public speaker based in Washington, D.C. who has become a leading authority on the animal rights and environmental movements, and civil liberties post-9/11. His reporting and commentary have appeared in media outlets including Rolling Stone, The Los Angeles Times, and The Washington Post. He testified before the U.S. Congress about his reporting, as the only witness opposing the Animal Enterprise Terrorism Act. Will has also been a guest commentator on a variety of programs, including NPR, Pacifica Radio, RT, ArteTV, and Democracy Now. His book, Green Is The New Red: An Insider's Account of a Social Movement Under Siege was recently published by City Lights Books. Kirkus Book Reviews awarded it a Kirkus Star for "remarkable merit" and named it one of the best books of 2011.
---
from Legislative Hearing on H.R. 4239,
the "Animal Enterprise Terrorism Act"
I should be clear from the outset, though. I am not a lawyer. I'm not a First Amendment scholar. And I'm not a spokesperson for the animal rights movement, or underground groups.
I'm here because of my freelance reporting. I have written for publications including The Chicago Tribune, The Dallas Morning News, and Legal Affairs. And since 2000, I have closely followed the animal rights and environmental movements, and the corporate-led backlash against them. I've documented an increasingly disturbing trend of "terrorist" rhetoric, sweeping legislation, grand jury witch hunts, blacklists, and FBI harassment reminiscent of tactics used against Americans during the Red Scare.
The Animal Enterprise Terrorism Act is a continuation of that trend.
The bill is ostensibly a response to illegal actions committed by underground activists in the name of animal rights. Business groups have lobbied for this legislation for years. And Department of Justice officials have said they need help prosecuting these crimes.
At the same time, they have been patting themselves on the back for arresting so-called "eco-terrorists." Just this weekend, four individuals were indicted for the 1998 fire at a Vail ski resort. Earlier this year, the government rounded up over a dozen environmental activists in the Northwest for property crimes. And on top of that, six animal activists were convicted in March of "animal enterprise terrorism" and other charges.
—
Continue reading "Legislative Hearing on H.R. 4239, the 'Animal Enterprise Terrorism Act'" at Green Is the New Red.
---
Links