Philip Metres and Mark Nowak
Posted in 2015-2016 Readings and Talks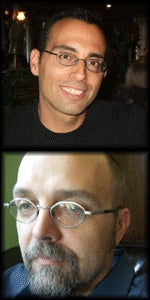 March 1, 2016
Seminar 5:30 PM | Lannan Center (New North 408)
Reading 8:00 PM | Copley Formal Lounge
From "Hung Lyres"
— Philip Metres
The new theory: not to praise too much, lest the child lose her inner sense of what pleasures, the listening tuned inward.
In silence before sleep, looking up to her ceiling, four years in her mind, she says: someone is telling the story of our life.
I see her great-grandmother in her brown eyes, in her roil of curls.
I don't know who it is.
In the woods of her wander, she.
They will be telling it our whole life.
—
Read more about Philip Metres 
From Capitalization
— Mark Nowak
I think it happened
because the left-wing movement
contributed so much
to the strength of the union.
That strength had to be dissipated.
A list of words and expressions
showing their generally accepted capitalization
follows. Note that some words
derived from proper nouns
have developed a special meaning;
these words are no longer capitalized.
American history
bologna sausage
boycott
English literature
poor whites
puritanical ethics
russian dressing
Russian olive
Statement No. 2
un-American
The phrasing of the first question
was particularly significant:
"Are you now, or have you ever been
a member of PATCO?"
Get rid of it. Get it out of here.
If the left could be isolated
out in the country somewhere,
selling eggs,
would there be any reason
to worry?
Would there?
---
Listen to the Seminar
Watch the Reading