Philip Metres and Mark Nowak
Posted in 2015-2016 Readings and Talks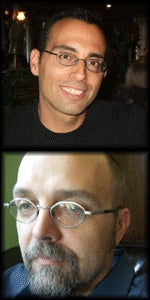 March 1, 2016
Seminar 5:30 PM | Lannan Center (New North 408)
Reading 8:00 PM | Copley Formal Lounge
From "Ashberries: Letters"
— Philip Metres
1.
Outside, in a country with no word
for outside, they cluster on trees,
red bunches. I looked up
ryabina, found mountain ash. No
mountains here, just these berries
cradled in yellow leaves.
When I rise, you fall asleep. We
barely know each other, you said
on the phone last night. Today, sun brushes
the wall like an empty canvas, voices
from outside drift into this room. I can't
translate—my words, frostbitten
fingers. I tell no one, how your hands
ghost over my back, letters I hold.
—
Continue reading "Asberries: Letters"
Read more about Philip Metres 
Read more about Mark Nowak
---
Listen to the Seminar
Watch the Reading