Sherwin Bitsui and Joan Naviyuk Kane
Posted in 2013-2014 Readings and Talks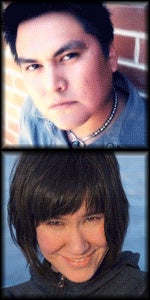 April 8, 2014
Seminar 5:30 PM | Lannan Center (New North 408)
Reading 8:00 PM | Copley Formal Lounge
---
River
— Sherwin Bitsui
When we river,
blood fills cracks in bullet shells,
oars become fingers scratching windows into dawn,
and faces are stirred from mounds of mica.
I notice the back isn't as smooth anymore,
the river crests at the moment of blinking;
its blood vessels stiffen and spear the drenched coat of flies
collecting outside the jaw.
Night slows here,
the first breath held back,
clenched like a tight fist in the arroyo under shattered glass.
But we still want to shake the oxygen loose from flypaper,
hack its veins,
divert its course,
and reveal its broken back,
the illusion of a broken back.
—
From Shapeshift (The University of Arizona Press, 2003)
Read more about Sherwin Bitsui
---
Syllabics
— Joan Naviyuk Kane
The sun made new again
Shadows of ice
As vertebra cut through.
Beauty unlike a blown
Glass bird, patterns
Of fluted beads—instead
Silt or sand, or something
Fractured. A plain
Of grit, a sediment.
From the forest the wind
Had utterly
Transformed, a small nest thrown
Into the path intact—
Moose hair and moss.
In their blue and distant
Taper, you hold in poise
Mountains: upon
Stone upon stone.
–
From Amerinda
Read more about Joan Naviyuk Kane
---
Listen to the Seminar
Watch the Reading