Joan Naviyuk Kane
Posted in Past Guests | Tagged G-M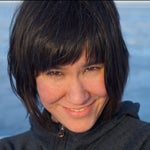 Joan Naviyuk Kane is Inupiaq with family from King Island and Mary's Igloo, Alaska. She earned her bachelor's degree from Harvard College and her MFA from Columbia University. She is recipient of the 2013 Native Arts and Cultures Foundation Literature Fellowship, the 2013 Creative Vision Award from United States Artists, a 2013 Rasmuson Foundation Artist Fellowship and will be the 2014 Indigenous Writer in Residence at the School for Advanced Research and faculty for the MFA program at the Institute of American Indian Arts. Along with her husband and sons, she lives in Anchorage, Alaska.
---
Nelson's Curio
An assemblage fine
And hidden: wooden
Shafts tipped with flint,
Baleen boxes, women's
Ivory-handled knives,
Shuttles notched in bone
And sinew, willow bark
Nets, and bodkins'
Round slender rods
Terminating in the
Heads of unfamiliar
Animals, offered as if
To say, we are strong,
We do not steal.
–
From Amerinda
---
Links
---
Media
Seminar with Sherwin Bitsui | April 8, 2014
Reading with Sherwin Bitsui | April 8, 2014