Khaled Mattawa and Fady Joudah
Posted in 2011–2012 Readings and Talks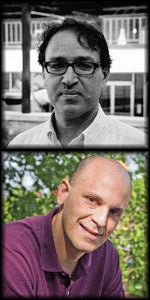 October 4, 2011
Seminar 5:30 PM | Lannan Center (New North 408)
Reading 8:00 PM | Copley Formal Lounge
---
Adulthood
— Khaled Mattawa
There are boats out there
loading bananas, scrap yard workers
taking down tankers one inch at a time —
the sun over the Indian Ocean,
the blinding glimmer of the sea.
What if one were to walk
toward it, or on it, that call,
that wind blowing between my ribs?
There are weavers,
bolts of damask and rayon,
buttons stitched, and visions lost, grains
of sand falling from their eyes.
Kidneys sold.
Why must you bring me
the same question? A throat being slit,
my hand on the killing hand
guiding it,
the sweet warmth joining us.
Someone is still calling from beyond
the glimmer that drowns my eyes.
Not my angel, not my death,
something closer
that knows what I'll do next.
—
Read more about Khaled Mattawa
---
The Tea and Sage Poem
— Fady Joudah
At a desk made of glass,
In a glass walled-room
With red airport carpet,
An officer asked
My father for fingerprints,
And my father refused,
So another offered him tea
And he sipped it. The teacup
Template for fingerprints.
My father says, it was just
Hot water with a bag.
My father says, in his country,
Because the earth knows
The scent of history,
It gave the people sage.
I like my tea with sage
From my mother's garden,
Next to the snapdragons
She calls fishmouths
Coming out for air. A remedy
For stomach pains she keeps
In the kitchen where
She always sings.
First, she is Hagar
Boiling water
Where tea is loosened.
Then she drops
In it a pinch of sage
And lets it sit a while.
She tells a story:
The groom arrives late
To his wedding
Wearing only one shoe.
The bride asks him
About the shoe. He tells her
He lost it while jumping
Over a house-wall,
Breaking away from soldiers.
She asks:
Tea with sage
Or tea with mint?
With sage, he says.
Sweet scent, bitter tongue.
She makes it, he drinks.
---
Watch the Reading