Khaled Mattawa and Fady Joudah
Posted in 2011–2012 Readings and Talks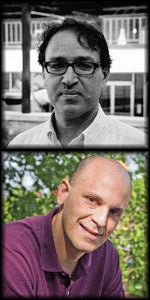 October 4, 2011
Seminar 5:30 PM | Lannan Center (New North 408)
Reading 8:00 PM | Copley Formal Lounge
---
Before
— Khaled Mattawa
Somewhere beyond faith and grace there is
the footprint of logic lost in the purest light. 
Not hidden at all, but a vehicle, a necessity, neither
mop nor bucket, but whatever gives the floor its shine.
The sun through the window pours on the floor,
and the wood glistens as if in praise.
As if a child breaking into a run. That is what I see
through the window now. A child breaking
into a run for the simple flame that must burn
and because there are such words.
Of course, I could be wailing.
Of course, the child is not a memory,
only a gesture on my part.
Yesterday, I fed a friend's cat and talked to her,
the town was emptied and filled with
snow embroidered with tire tracks. 
I fed a friend's cat and she rubbed her sides against my calves. 
The thing to say now is that I am in the middle of a life
in a house with the owners on holiday.
Or to say a car engine hums (the owner forgetting
the keys inside), and is on its way to a crystalline loss.
Here deduction is howling at an oncoming storm.
The thing is, I fed a friend's cat and later poured
a bowl of milk for her and she sniffed it,
barely licked it, and left.
The thought is. The life is.
I've visited graves—tombstones ten feet high.
I ran through the cemetery and laughed my Cairo laugh.
I wanted to be arrested by the police, wanted
someone to take down what I had to say.
Whatever I would have said then would have been the truth.
But there was no one there.
Only dust and a shitload of romance.
Only dust and the hum of the interstate.  Detroit,
Toledo, the hitchhiker hums a foreign song.
I feed the cat and talk to her.
I take the milk away and begin to forget
and the cat stares at the missing milk.
Billions of snowflakes in between,
and the befores that follow the first before.
—
From Poets.org
Read more about Khaled Mattawa
---
The Tea and Sage Poem
— Fady Joudah
At a desk made of glass,
In a glass walled-room
With red airport carpet,
An officer asked
My father for fingerprints,
And my father refused,
So another offered him tea
And he sipped it. The teacup
Template for fingerprints.
My father says, it was just
Hot water with a bag.
My father says, in his country,
Because the earth knows
The scent of history,
It gave the people sage.
I like my tea with sage
From my mother's garden,
Next to the snapdragons
She calls fishmouths
Coming out for air. A remedy
For stomach pains she keeps
In the kitchen where
She always sings.
First, she is Hagar
Boiling water
Where tea is loosened.
Then she drops
In it a pinch of sage
And lets it sit a while.
She tells a story:
The groom arrives late
To his wedding
Wearing only one shoe.
The bride asks him
About the shoe. He tells her
He lost it while jumping
Over a house-wall,
Breaking away from soldiers.
She asks:
Tea with sage
Or tea with mint?
With sage, he says.
Sweet scent, bitter tongue.
She makes it, he drinks.
—
From The Earth in the Attic (Yale University Press, 2008)
Read more about Fady Joudah
---
Watch the Reading