Fady Joudah
Posted in Past Guests | Tagged G-M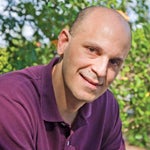 The child of Palestinian refugees raised in Austin, TX, Fady Joudah's precise narrative style tackles identity and suffering from the perspective of the exiled. In addition to writing and translating poetry, Joudah is a emergency room physician and volunteers for Doctors Without Borders.
Joudah won the 2007 Yale Series of Younger Poets competition for his debut collection The Earth in the Attic, and was a finalist for the PEN Award for Poetry in Translation for his translation of the final three collections in Palestinian poet Mahmoud Darwish's The Butterfly's Burden. Joudah's work has appeared in Poetry magazine, Iowa Review, Kenyon Review, Drunken Boat, Prairie Schooner and Crab Orchard Review.
---
The Tea and Sage Poem
At a desk made of glass,
In a glass walled-room
With red airport carpet,
An officer asked
My father for fingerprints,
And my father refused,
So another offered him tea
And he sipped it. The teacup
Template for fingerprints.
My father says, it was just
Hot water with a bag.
My father says, in his country,
Because the earth knows
The scent of history,
It gave the people sage.
I like my tea with sage
From my mother's garden,
Next to the snapdragons
She calls fishmouths
Coming out for air. A remedy
For stomach pains she keeps
In the kitchen where
She always sings.
First, she is Hagar
Boiling water
Where tea is loosened.
Then she drops
In it a pinch of sage
And lets it sit a while.
She tells a story:
The groom arrives late
To his wedding
Wearing only one shoe.
The bride asks him
About the shoe. He tells her
He lost it while jumping
Over a house-wall,
Breaking away from soldiers.
She asks:
Tea with sage
Or tea with mint?
With sage, he says.
Sweet scent, bitter tongue.
She makes it, he drinks.
–
From The Earth in the Attic (Yale University Press, 2008)
---
Links
---
Media
Reading with Khaled Mattawa | October 4, 2011