Khaled Mattawa
Posted in Past Guests | Tagged G-M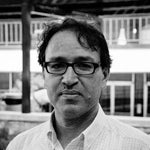 Libyan poet and translator Khaled Mattawa, was born in Benghazi in 1964 and emigrated to the United States in 1979. His most recent collection of poetry is Tocqueville (2010) and his most recent translation work is Selected Poems (2010) by Arab poet Adonis.
Mattawa holds an MFA in creative writing from Indiana University — where he was teaching when he won an Academy of American Poets award in 2010. Mattawa has also received a Guggenheim fellowship, a translation grant from the National Endowment for the Arts, the Alfred Hodder Fellowship from Princeton University, the PEN American Center Poetry Translation Prize, and three Pushcart Prizes. The poet Marilyn Hacker has described Mattawa's work as "politically astute, formally daring, grips the reader with an intelligence that spotlights, too, its sensual and emotional (and historical) accuracy."
---
Adulthood
There are boats out there
loading bananas, scrap yard workers
taking down tankers one inch at a time —
the sun over the Indian Ocean,
the blinding glimmer of the sea.
What if one were to walk
toward it, or on it, that call,
that wind blowing between my ribs?
There are weavers,
bolts of damask and rayon,
buttons stitched, and visions lost, grains
of sand falling from their eyes.
Kidneys sold.
Why must you bring me
the same question? A throat being slit,
my hand on the killing hand
guiding it,
the sweet warmth joining us.
Someone is still calling from beyond
the glimmer that drowns my eyes.
Not my angel, not my death,
something closer
that knows what I'll do next.
---
Links
---
Media
Reading with Fady Joudah | October 4, 2011
CRY HAVOC! Poetry of War and Remembrance 1968-2008 | March 31, 2009
SYMPOSIUM III: War and Remembrance: Surviving with Language and Memory
CRY HAVOC! Poetry of War and Remembrance 1968-2008 | March 31, 2009
Sorrows of Baghdad: Poetry of the Shattered Home and the Troubled Soldier