Solmaz Sharif and Mai Der Vang
January 30, 2018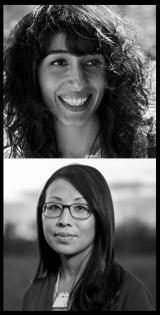 Seminar 5:30 PM | Lannan Center (New North 408)
Reading 8:00 PM | Copley Formal Lounge
---
force visibility
— Solmaz Sharif
Everywhere we went, I went
in pigtails
no one could see—
ribbon curled
by a scissor's sharp edge,
the bumping our cars
undertook when hitting
those strips
along the interstate
meant to shake us
awake. Everywhere we went
horses bucking
their riders off,
holstered pistols
or two Frenchies
dancing in black and white
in a torn-apart
living room,
on the big screen
our polite cow faces
lit softly
by New Wave Cinema
I will never
get into. The soft whir
of CONTINUOUS STRIP IMAGERY.
What is fascism?
A student asked me
and can you believe
I couldn't remember
the definition?
–
From Look (Graywolf Press, 2016).
Continue reading "force visibility" at Poets.org.
Read more about Solmaz Sharif
---
I Am the Whole Defense
— Mai Der Vang
Mid-1700s, Southwestern China
Lightning is the creature who carries a knife.
Two months now,
The rains hold watch.
Statues bury in teak
Smeared with old egret's blood.
I feel the pulse of this inferno,
Tested by the hour to know
That even torches must not waver.
In the garrison, I teach boulders
To trickle from the cliff.
My fallen grow parchment from their hair,
Calligraphy descends
From their lips.
Infantry attack
But my musket knows.
They scale the sides
Yet I tear the rocks.
I am not wife, but my name is Widow.
Let them arrive
To my ready door,
The earth I've already dug.
—
Originally published in Poem-a-Day by the Academy of American Poets.
Read more about Mai Der Vang
---
Listen to the Seminar
Watch the Reading