Solmaz Sharif
Born in Istanbul to Iranian parents, Solmaz Sharif holds degrees from U.C. Berkeley,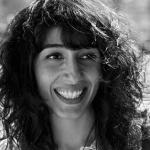 where she studied and taught with June Jordan's Poetry for the People, and New York University. Her first poetry collection, LOOK, published by Graywolf Press in 2016, was a finalist for the National Book Award. Sharif's work has appeared in The New Republic, Poetry, The Kenyon Review, jubilat, Gulf Coast, Boston Review, Witness, and others. The former managing director of the Asian American Writers' Workshop, her work has been recognized with  a "Discovery"/Boston Review Poetry Prize, scholarships the Bread Loaf Writers' Conference, a winter fellowship at the Fine Arts Work Center in Provincetown, an NEA fellowship, and a Stegner Fellowship. She has most recently been selected to receive a 2014 Rona Jaffe Foundation Writer's Award as well as a Ruth Lilly and Dorothy Sargent Rosenberg Fellowship. She is currently a lecturer at Stanford University.
---
EXILE ELEGY
Our phone would
rarely ring. I have no ear
for the mu-
sic here. They would
bury one then another, the eldest son dropping
in
the grave to
comfort the corpse, calling us
months later
because we were
exiles, were vagabonds, fugitives, past Sierras,
past
oil rigs
in Texas, or waiting for
the windshield
to clear of frost,
two expanding ovals where the Buick's heat hit, our
eyes
opened to
kudzu, here where the dead can
not reach us.
Three thimbles with
her sweat, in the dresser drawer they emptied would, I bet,
roll,
clink, tongueless.
Gauze of soot, of skin sifted
off her where
she scratched her head,
licked her thumb to lift page after thin onionskin page,
cloaks
her mantle.
Portrait of Imam Ali,
dead husband,
dead son. She stuffed
plastic bags into plastic bags, clouds of them, some stuffed
with
cash. She who
pled Eat. pled Pray. said I pray
for your soul.
fasted, said Ask
Him, never once talked of love, or, fondly, My husband,
still
would that I
could lick the dust that like—I
think it's—mus-
sic will not reach
us here, just wet my fingertip, run along inside
one
sock drawer
so that her sugar, Shiraz
bits she tracked
inside, I could
eat, lick off her plastic tabletop whatever fell
grain
by grain off
her tiny, tin teaspoon. Where
her gold went,
who gives a shit.
I claimed her sugar bowl, white floral veil she prayed in,
to
take once her
daily, daily things. Morning
(one, even)
to step up her
thinly carpeted steps, hear her dentures click and clap.
I
can't hear that
music here.
–
From Literary Hub
---
Links
---
Media
Seminar with Mai Der Vang | January 30, 2018
Reading with Mai Der Vang | January 30, 2018