Rabih Alameddine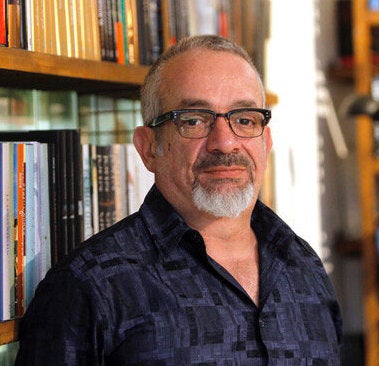 Rabih Alameddine is the author of six critically acclaimed novels, most recently The Wrong End of the Telescope (Grove Press, 2021), winner of the Pen/Faulkner Prize in 2022. He is also the author of The Angel of History (Grove Press, 2016), winner of the Lambda Literary Award 2017; An Unnecessary Woman (Grove Press, 2014), a finalist for the National Book Award and the National Book Critics Circle Award; The Hakawati (Knopf, 2008); I, The Divine (W.W. Norton, 2001); Koolaids (Picador, 1999); and a collection of short stories, The Perv (Picador, 1999). His honors include a Guggenheim Fellowship in 2002, the Harold Washington Literary Award in 2018, the John Dos Passos Prize for Literature in 2019, the 2021 Lannan Literary Award for Fiction, and recently, a finalist for the 2023 Joyce Carol Oates Prize. He was previously the Lannan Medical Humanities Scholar-In-Residence at Georgetown University and the Kapnick Foundation Distinguished Writer-in-Residence at University of Virginia. Alameddine is currently the Lannan Foundation Visiting Chair at Georgetown University.
---
Excerpt from The Angel of History
–Rabih Alameddine
There is a dignity in decay, Satan thought, as he regarded the terra-cotta planter basking on the kitchen windowsill. The sage shrublet growing within was silver-green fresh, yet seemed puerile and fatuous, like an ill-mannered child compared with its cracked, aging container. From the living room, Satan could just see the only window in the dim kitchen, a small rectangle above the always dry dish drainer that had not held more than a single plate in months. Jacob ate his lonely dinners standing next to the counter every night of the week, staring at the blank wall like a waiter in an empty restaurant.
"Are we ready?" Satan asked. "Shall we begin the interview?"
He leaned forward a little in his seat, a black olefin armchair that contrasted with his white suit, and reached for the mini digital recorder on the coffee table, a gesture to emphasize his question; he placed his thumb on the red button but hesitated before he pressed, waiting for some sign from Death that they could begin.
"Wait," Death said. "What interview?"
"You can't have forgotten already," Satan said. "You agreed to do this interview. It's why you're here."
"Sorry, I was thinking of something else." All in black, of course, Death shifted in his chair to a more comfortable position. He had an unmistakable whiff of history about him, and of formaldehyde. "I wish it on record," Death said in a slightly amused voice, a glint returning to his eye, "that you wanted me here. Your asking for my help is highly unusual. It makes me feel so — I don't know exactly — needed, maybe even happy. I want to shout from rooftops, from mountaintops: you like me, you really like me. You want us to work together, Father. I want that in a memo."
"Fine, most fine," Satan said. "Let's tape your gloating for the record, shall we?"
Satan disliked the machine's unobtrusive silence. Long gone were the days of cassette tapes, or better yet, reel-to-reel players whose fluttery noises might have unsettled his interviewee. He had made sure to place himself between Death and the door, anything to discomfit his nemesis. Almighty Death, Lord of the Underworld, Master of Lethe, imperturbable Death, whose pale angular face and bloodless lips rarely exhibited anything but frosty inviolability, whose usual demeanor was imperiously incurious, looked interested, maybe eager.
From The Angel of History (Grove Atlantic, 2016).
---
Links
Media

Readings and Talks | November 17th, 2023
Surviving in the Aftermath – 2023 Lannan Symposium | February 6, 2023
Writing in a Time of Crisis –2022 Lannan Symposium | March 23, 2022
Reimagining the American Narrative –2022 Lannan Symposium | March 23, 2022