Rabih Alameddine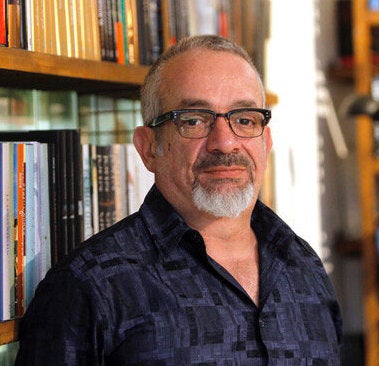 Rabih Alameddine is the author of six critically acclaimed novels, most recently The Wrong End of the Telescope (Grove Press, 2021), winner of the Pen/Faulkner Prize in 2022. He is also the author of The Angel of History (Grove Press, 2016), winner of the Lambda Literary Award 2017; An Unnecessary Woman (Grove Press, 2014), a finalist for the National Book Award and the National Book Critics Circle Award; The Hakawati (Knopf, 2008); I, The Divine (W.W. Norton, 2001); Koolaids (Picador, 1999); and a collection of short stories, The Perv (Picador, 1999). His honors include a Guggenheim Fellowship in 2002, the Harold Washington Literary Award in 2018, the John Dos Passos Prize for Literature in 2019, the 2021 Lannan Literary Award for Fiction, and recently, a finalist for the 2023 Joyce Carol Oates Prize. He is currently the Lannan Medical Humanities Scholar-In-Residence at Georgetown University and the Kapnick Foundation Distinguished Writer-in-Residence at University of Virginia. Alameddine will begin his three-year appointment as the Lannan Foundation Visiting Chair in fall 2023.
---
From The Wrong End of the Telescope
Sumaiya and her family rode the bus while Emma, Rodrigo, and I followed in the car. Luckily, we'd decided not to take my Opel that morning. Emma's rental Honda was much more comfortable. In the back seat, I suddenly felt exhausted and sluggish. Drowsiness overwhelmed me. Talking to me through the rearview mirror, Emma suggested that I close my eyes for a bit. It would be at least half an hour before we reached Moria. I fell asleep before she finished her sentence.
I dreamt of my mother, of my father, of sitting before them as an adult, all of us underwater in the Mediterranean, something like that, everything fleeting and hollow. I heard strange knocking noises, as if I were in an aquarium with some child knocking on the glass, my head echoing back. And indeed it was a child who woke me—or rather five of them—four boys and a little girl, all in clothes that had seen better days if they'd ever had a good one. The kids stepped back from the car as soon as I turned, all of them giggling. I'd slept for hours, my head leaning against the rear window.
I had a text from Emma explaining that she thought it would be best to let me sleep, that I should come to the camp when I woke up and call her. I stretched my arms, used the car's roof as support, which made the children laugh louder. I got out of the car, asking them in Arabic if there was something wrong or if they found me generally amusing. The eldest boy, no more than eleven, clad in a multiyarned sweater, explained that I was snoring loudly. He could hear my snoring through the car window, he said, but not his friend and lieutenant, pointing to a younger boy, because his ears were filthy. His ears had so much dirt, the eldest boy said, that you could grow wheat in them and make bread. The other boy, whose ears did not seem any dirtier than the rest, was not amused.
It had rained sloppily while I slept, and all the cars parked along the road were still dripping. Shreds of frayed clouds congealed into a dark, menacing mass, covering the light with thickets of moisture. The shadows around me grew fainter.
Continue reading at Literary Hub
---
Links
Media

Surviving in the Aftermath – 2023 Lannan Symposium | February 6, 2023
Writing in a Time of Crisis –2022 Lannan Symposium | March 23, 2022
Reimagining the American Narrative –2022 Lannan Symposium | March 23, 2022