Tope Folarin
Posted in Past Guests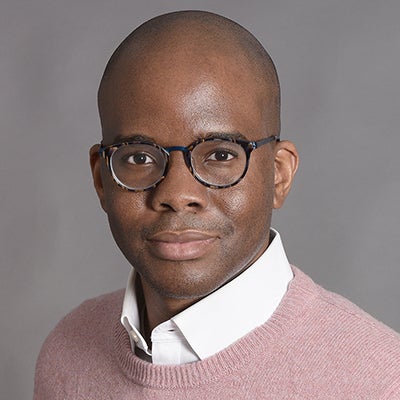 Tope Folarin is a Nigerian-American writer based in Washington, D.C. He won the Caine Prize for African Writing in 2013 and was shortlisted once again in 2016. He was also recently named to the Africa39 list of the most promising African writers under 40. Folarin was educated at Morehouse College and the University of Oxford, where he earned two Masters degrees as a Rhodes Scholar. He is the author of A Particular Kind of Black Man (Simon & Schuster, 2019), and is currently the Lannan Creative Writing Visiting Lecturer at Georgetown University and Director of the Institute for Policy Studies.
From
Miracle
Our heads move simultaneously, and we smile at the tall, svelte man who strides purposefully down the aisle to the pulpit. Once there, he raises both of his hands then lowers them slightly. He raises his chin and says let us pray. "Dear Father, we come to you today, on the occasion of this revival, and we ask that you bless us abundantly, we who have made it to America, because we know we are here for a reason. We ask for your blessings because we are not here alone. Each of us represents dozens, sometimes hundreds of people back home. So many lives depend on us Lord, and the burden on our shoulders is great. Jesus, bless this service, and bless us. We ask that we will not be the same people at the end of the service as we were at the beginning. All this we ask of you, our dear savior, Amen."
The pastor sits, and someone bolts from the front row to the piano and begins to play. The music we hear is familiar and at the same time new; the bandleader punches up a pre-programmed beat on the cheap electronic piano and plays a few Nigerian gospel songs to get us in the mood for revival. We sing along, though we have to wait a few moments at the beginning of each song to figure out what he's playing. We sing joyful songs to the Lord, then songs of redemption, and then we sing songs of hope, hope that tomorrow will be better than today, hope that, one day soon, our lives will begin to resemble the dreams that brought us to America.
Links
Media
Surviving in the Aftermath – 2023 Lannan Symposium | February 6, 2023
Can America Survive Capitalism? –2022 Lannan Symposium | March 23, 2022
Does America Need a TRC? –2022 Lannan Symposium | March 23, 2022
Reading – 2021-2022 Readings & Talks Series | November 30, 2021
Reading – African Futures: Sneak Preview | March 19, 2019
Lessons in Democracy | March 19, 2019
Decolonizing the Mind: Country, Campus, Canon | March 19, 2019
Living in a Precarious World: Art, Labor, and the New Economic Precarity | April 1, 2014
Writing Precarity
Seminar | February 11, 2014
Reading | February 11, 2014