Keith Waldrop
Posted in Past Guests | Tagged T-Z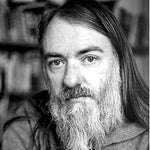 Keith Waldrop was born in Emporia, Kansas in 1932. While stationed in Germany during the 1950s, Waldrop met his wife, the poet and translator Rosmarie Waldrop. He earned a PhD in comparative literature in 1964 from the University of Michigan and has taught at Brown University since 1968. Keith Waldrop, who was awarded the 2009 National Book Award for poetry for Transcendental Studies: A Trilogy, has been a prominent voice in American poetry for over forty years. He is the author of over a dozen books of poetry, prose, and translations. With Rosmarie Waldrop he co-edits Burning Deck Press.
In addition to being an internationally celebrated poet, Waldrop is a respected translator of French literature. He most recently translated Charles Baudelaire's Les Fleurs du Mal. The French Government has given him the rank of "Chevalier des arts et des letters." In addition to winning a National Book Award, Waldrop has received an NEA Fellowship for translation, a stipend from the DAAD Berlin Artists' Program, and a Fund for Poetry Award. His poetry has been translated into French, German, and Danish.
---
Poet
The wind dying, I find a city deserted, except for crowds of
people moving and standing.
Those standing resemble stories, like stones, coal from the
death of plants, bricks in the shape of teeth.
I begin now to write down all the places I have not been—
starting with the most distant.
I build houses that I will not inhabit.
---
Links
---
Media
Reading with Rosmarie Waldrop | October 10, 2000