John Taggart
Posted in Past Guests | Tagged T-Z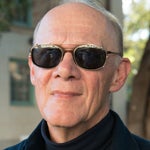 Experimental poet, essayist, and editor John Taggart was born in Perry, Iowa, and grew up in a series of small towns in Indiana. He earned a BA at Earlham College, an MA at the University of Chicago, and a PhD at Syracuse University. Taggart is the author of more than a dozen collections of poetry, including Is Music: New and Selected Poems and Dodeka. His prose includes Songs of Degrees: Essays on Contemporary Poetry and Poetics and Remaining in Light: Ant Meditations on a Painting by Edward Hopper. His honors include the Commonwealth Award for Academic Service from the Pennsylvania Department of Education, a Pushcart Prize, and the Chicago Review Poetry Prize, as well as two fellowships from the National Endowment for the Arts and one from the Ford Foundation. Taggart published the literary magazine Maps during the late 1960s and early 1970s. He retired from his professorship at Shippensburg State University in 2001. He lives in Pennsylvania.
---
Orange Berries Dark Green Leaves
Darkened not completely dark let us walk in the darkened field
trees in the field outlined against that which is less dark
under the trees are bushes with orange berries dark green leaves
not poetry's mixing of yellow light blue sky darker than that
darkness of the leaves a modulation of the accumulated darkness
orange of the berries another modulation spreading out toward us
it is like the reverberation of a bell rung three times
like the call of a voice the call of a voice that is not there.
We will not look up how they got their name in a book of names
we will not trace the name's root conjecture its first murmuring
the root of the berries their leaves is succoured by darkness
darkness like a large block of stone hauled on a wooden sled
like stone formed and reformed by a dark sea rolling in turmoil.
---
Links
---
Media
Reading with Harryette Mullen | September 19, 2000