Elizabeth Willis
Posted in Past Guests | Tagged T-Z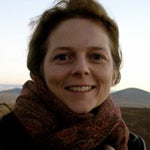 Elizabeth Willis's most recent book, Address (Wesleyan University Press, 2011), won the PEN New England / L. L. Winship Prize for Poetry. Her other books of poetry include Meteoric Flowers (Wesleyan University Press, 2006) and The Human Abstract (Penguin, 1995). Recent poems have appeared or are forthcoming in BOMB, Chicago Review, Colorado Review, Critical Quarterly, and A Public Space.
Willis' honors include fellowships in poetry from the Guggenheim Foundation and the Howard Foundation as well as residencies at the MacDowell Colony and the Centre International de Poésie, Marseille. Her second book, The Human Abstract, was selected for the National Poetry Series. In 2007 she was awarded the Boston Review Prize for poetry. She is currently the Shapiro-Silverberg professor of literature and creative writing at Wesleyan University.
---
Ephemeral Stream
This is the way water
thinks about the desert.
The way the thought of water
gives you something
to stumble on. A ghost river.
A sentence trailing off
toward lower ground.
A finger pointing
at the rest of the show.
I wanted to read it.
I wanted to write a poem
and call it "Ephemeral Stream"
and dedicate it to you
because you made of this
imaginary creek
a hole so deep
it looked like a green eye
taking in the storm,
a poem interrupted
by forgiveness.
It's not over yet.
A dream can spend
all night fighting off
the morning. Let me
start again. A stream
may be a branch or a beck,
a crick or kill or lick,
a syke, a runnel. It pours
through a corridor. The door
is open. The keys
are on the dashboard.
---
Links
---
Media
Societies of American Poetry: Dissenting Practices | February 22, 2003
Social / Lyric
Reading with Peter Gizzi | April 16, 2002