Colm Tóibín
Posted in Past Guests | Tagged T-Z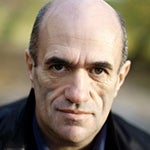 Irish novelist, short story writer, essayist, playwright, journalist, critic, memoirist, and poet Colm Toibin was born in Enniscorthy, Co. Wexford in 1955. He has written ten books of fiction. His first novel, The South, was shortlisted for the Whitbread First Novel Award and winner of the Irish Times/ Aer Lingus First Fiction Award. In 2004, he published The Master, which was winner of the Dublin IMPAC Prize, the Prix du Meilleur Livre, and the Los Angeles Times Novel of the Year; it was also shortlisted for the Booker Prize. His 2009 work, Brooklyn, was winner of the Costa Novel of the Year and adapted into the eponymous film in 2015. He has edited The Penguin Book of Irish Fiction and had three books published on his work. In 2012, his novel The Testament of Mary was published and was short-listed for the 2013 Man Booker Prize.
Tóibín has worked as a journalist and travel writer for a number of periodicals, and his writings have been collected in a few different publications, including The Trial of the Generals and Bad Blood: A Walk Along the Irish Border. In addition to being a regular contributor to the New York Review of Books, he is a contributing editor at the London Review of Books. Between 2006 and 2013 he was a member of the Arts Council in Ireland. His work has been translated into more than thirty languages.
Colm Tóibín is President of Listowel Writers Week and chair of Pen World Voices in New York.
---
From Brooklyn
On the night before they were due to dock, she went to the dining room with Georgina, who told her that she looked wretched and that if she did not take care she would be stopped at Ellis Island and put in quarantine, or at least given a thorough medical examination. Back in the cabin, Eilis showed Georgina her passport and papers to prove to her that she would not have a problem entering the United States. She told her that she would be met by Father Flood. Georgina was surprised, she said, that Eilis had a full, rather than a temporary, work permit. She did not think it was easy to get such a document any more, even with the help of a priest. She made Eilis open her suitcase and show her what clothes she had brought so that she could select suitable attire for her when she was disembarking and make sure that nothing she wore was too wrinkled.
"Nothing fancy," she said. "We don't want you looking like a tart."
She chose a white dress with a red floral pattern that Rose had given Eilis and a plain cardigan and a plain-coloured scarf. She looked at the three pairs of shoes that Eilis had packed and selected the plainest, insisting that the shoes would have to be polished.
"And wear your coat over your arm and look as though you know where you're going and don't wash your hair again, the water on this boat has made it stand out like a ball of steel wool. You'll need to spend a few hours brushing it to get it into any shape at all."
In the morning, between arranging to have her trunk carried on deck, Georgina began to put make-up on, getting Eilis to comb her hair out even straighter now that the brushing was done so that it could be tied back into a bun.
"Don't look too innocent," she said. "When I put some eye-liner on you and some rouge and mascara, they'll be afraid to stop you. Your suitcase is all wrong, but there's nothing we can do about that."
"What's wrong with it?"
"It's too Irish and they stop the Irish."
"Really?"
"Try not to look so frightened."
"I'm hungry."
"We're all hungry. But, darling, you don't need to look hungry. Pretend you are full."
---
Links
---
Media
Seminar | November 9, 2016
Lecture | November 9, 2016