Anne Waldman
Posted in Past Guests | Tagged T-Z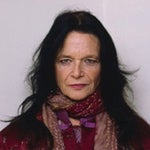 Born in Millville, New Jersey, Anne Waldman grew up in Manhattan surrounded by Beat poetry and jazz. She studied at Bennington College, where she interfaced with Howard Nemerov, Bernard Malamud, and Stanley Edgar Hyman. She attended the Berkeley Poetry Conference in 1965 where she discovered the Outrider experimental poetry movement, of which she is now an active member. While at the conference, she decided to found Angel Hair, a small press that published a magazine of the same name as well as many books. She eventually returned to New York where she became director of the St. Mark's Church Poetry Project, where she worked for a year. With Allen Ginsberg, she founded the Jack Kerouac School of Disembodied Poetics at the Naropa Institute in Boulder, Colorado. And in 2002, she co-founded the Poetry Is News collective with writer/scholar Ammiel Alcalay.
Waldman has received grants from the Foundation for Contemporary Performance Arts, the Poetry Foundation, and the National Endowment for the Arts. She has been a resident at the Emily Harvey Foundation in Venice and Rockefeller Center's Bellagio Center, among others. Twice, she has won the International Poetry Championship Bout in Taos, New Mexico. Additionally, from 1975-1976, she was "poet in residence" with Bob Dylan's concert tour, the Rolling Thunder Revue.
---
Philosophia Perennis
I turned: quivering yellow stars in blackness
I wept: how speech may save a woman
The picture changes & promises the heroine
That nighttime & meditation are a mirage
To discuss pro & contra here is mute
Do I not love you, day?
A pure output of teleological intentions
& she babbles, developing a picture-theory of language
Do I not play the delicate game of language?
yes, & it is antecedent to the affairs of the world:
The dish, the mop, the stove, the bed, the marriage
& surges forth the world in which I love
I and I and I and I and I and I, infinitely reversible
Yet never secure in the long morning texture
A poor existing woman-being, accept her broken heart
& yet the earth is divinity, the sky is divinity
The nomads walk & walk.
---
Links
---
Media
Reading with Lisa Jarnot | February 12, 2002