Ada Limón
Posted in Past Guests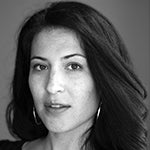 Ada Limón's Bright Dead Things, her fourth book of poetry, was named a finalist for the 2015 National Book Award in Poetry as well as the 2015 National Book Critics Circle Award, and was also one of the Top Ten Poetry Books of the Year by The New York Times. Her work has appeared in numerous magazines and journals, including Harvard Review and The New Yorker. She has received fellowships from the Provincetown Fine Arts Work Center, the New York Foundation for the Arts, and won the Chicago Literary Award for Poetry. Limón serves on the faculty of Queens University of Charlotte Low Residency M.F.A program, and the 24Pearl Street online program for the Provincetown Fine Arts Work Center. She also works as a freelance writer who splits her time between Lexington, Kentucky and Sonoma, California.
---
Late Summer After a Panic Attack
Now, we take the moon
into the middle of our brains
so we look like roadside stray cats
with bright flashlight-white eyes
in our faces, but no real ideas
of when or where to run.
We linger on the field's green edge
and say, Someday son, none of this
will be yours. Miracles are all around.
We're not so much homeless
as we are home free, penny-poor,
but plenty lucky for love and leaves
that keep breaking the fall. Here it is:
the new way of living with the world
inside of us so we cannot lose it,
and we cannot be lost. You and me,
are us and them, and it and sky.
It's hard to believe we didn't
know that before; it's hard to believe
we were so hollowed out, so drained,
only so we could shine a little harder
when the light finally came.
–
From The Carrying (Milkweed Editions, 2018)
---
Links
---
Media
Seminar with Aracelis Girmay | February 28, 2017
Reading with Aracelis Girmay | February 28, 2017