Aracelis Girmay and Ada Limón
Posted in 2016-2017 Readings and Talks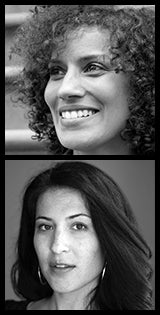 February 28, 2017
Seminar 5:30 PM | Lannan Center (New North 408)
Reading 8:00 PM | Copley Formal Lounge
---
Consider the Hands that Write this Letter
—Aracelis Girmay
after Marina Wilson
Consider the hands
that write this letter.
Left palm pressed flat against paper,
as we have done before, over my heart,
in peace or reverence to the sea,
some beautiful thing
I saw once, felt once: snow falling
like rice flung from the giants' wedding,
or strangest of strange birds. & consider, then,
the right hand, & how it is a fist,
within which a sharpened utensil,
similar to the way I've held a spade,
the horse's reins, loping, the very fists
I've seen from roads through Limay & Estelí.
For years, I have come to sit this way:
one hand open, one hand closed,
like a farmer who puts down seeds & gathers up;
food will come from that farming.
Or, yes, it is like the way I've danced
with my left hand opened around a shoulder,
my right hand closed inside
of another hand. & how I pray,
I pray for this to be my way: sweet
work alluded to in the body's position to its paper:
left hand, right hand
like an open eye, an eye closed:
one hand flat against the trapdoor,
the other hand knocking, knocking.
—
From Teeth (Curbstone Press, 2007)
Read more about Aracelis Girmay
---
How to Triumph Like a Girl
—Ada Limón
I like the lady horses best,
how they make it all look easy,
like running 40 miles per hour
is as fun as taking a nap, or grass.
I like their lady horse swagger,
after winning. Ears up, girls, ears up!
But mainly, let's be honest, I like
that they're ladies. As if this big
dangerous animal is also a part of me,
that somewhere inside the delicate
skin of my body, there pumps
an 8-pound female horse heart,
giant with power, heavy with blood.
Don't you want to believe it?
Don't you want to tug my shirt and see
the huge beating genius machine
that thinks, no, it knows,
it's going to come in first.
—
From Bright Dead Things (Milkweed Editions, 2015)
Read more about Ada Limón
---
Listen to the Seminar
Watch the Reading