Lannan Foundation Chair in Poetics, 2007-2008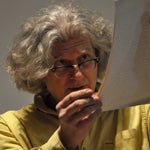 Poet, novelist, translator, critic, and scholar, Ammiel Alcalay is deputy chair of the PhD Program in English at The Graduate Center, CUNY, and former chair of Classical, Middle Eastern & Asian Languages & Cultures at Queens College. He was the first holder of the Lannan Visiting Chair in Poetics at Georgetown University.
The Lannan Foundation Chair is a visiting position at Georgetown to be held by a distinguished writer and public intellectual from the United States or overseas. Providing intellectual steerage during his or her tenure, the Foundation Chair lends visibility, focusing energy, and imaginative scope to the programs on offer. In any given year, the holder convenes significant public events in accord with his or her interests; and teaches in the undergraduate or graduate curriculum.