Lannan Foundation Chair in Poetics, 2012-2015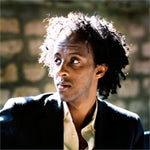 Dinaw Mengestu is the 2012-2013 Lannan Foundation Chair in Poetics. Born in Ethiopia, Mengestu immigrated to the United States at the age of 2 and currently lives in Paris, France. As a novelist, essayist, and reporter, Mengestu examines identity and presence.
The Lannan Foundation Chair is a visiting position at Georgetown to be held by a distinguished writer and public intellectual from the United States or overseas. Providing intellectual steerage during his or her tenure, the Foundation Chair lends visibility, focusing energy, and imaginative scope to the programs on offer. In any given year, the holder convenes significant public events in accord with his or her interests; and teaches in the undergraduate or graduate curriculum.