Engaged Scholarship with CSJ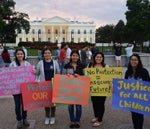 In keeping with the Lannan Center's commitment to weaving together poetics and social practice, we encourage faculty and students alike to develop the social dimensions of their scholarship in local and global domains. The Lannan Center partners with Georgetown University's Center for Social Justice Research, Teaching and Service ("CSJ"), located on main campus, on diverse community engagement and social justice initiatives.
Faculty who wish to infuse their teaching with a social justice lens or partner with a community-based organization are encouraged to learn more about CSJ's work by visiting csj.georgetown.edu/faculty or contact Amanda Munroe, CSJ's Associate Director, Mission Curricular Integration at csjcbl@georgetown.edu.
Students who wish to deepen their academic learning through service with a community-based organization are encouraged to visit csj.georgetown.edu/getengaged and consider enrollment in UNXD 130: Social Action (offered parallel to undergraduate classes).