Charmaine Craig and David Gewanter
November 27, 2018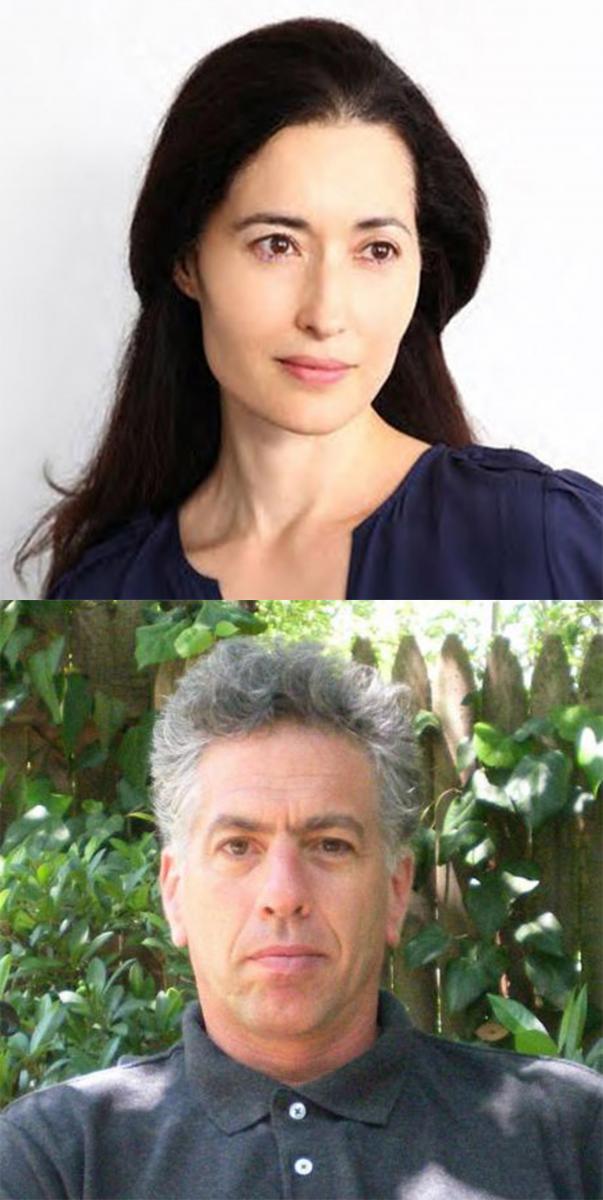 Seminar 4:30 PM | Lannan Center (New North 408)
Reading 7:00 PM | Copley Formal Lounge
---
From Miss Burma
—Charmaine Craig 
Khin had seen him before, the young officer (an Anglo-Indian?). She had noticed his hands, strong and clenched by his sides, and the restless way he charged from one end of the seaport to the other, as if he were trying to expend something combustible stored within him. One afternoon, she had watched as he'd ridden a launch out toward a ship anchored in the bay; he'd stood at the bow, leaning into the wind, arms crossed over his chest. Was he so sure of his balance? she wondered. Or did some part of him hope to tempt fate, as she sometimes darkly did when she ventured out to the very edge of this jetty, where she stood now, in September 1939, with the boy who was her charge.
She had come to Akyab four months earlier to work as a nanny for a Karen judge, who made a practice of hiring people of their own persecuted race, or so he said. His six-year-old son often drew her out to the port, where from the jetty they could look out over the fitful water and watch the beautiful seaplanes landing and taking off. She loved the planes as much as the boy did, loved their silent sputtering grace—though her love was distressed. Sometimes she saw a plane swerve and imagined it falling like a bird shot out of the sky.
The boy pointed up to the silvery body of a plane ascending toward a cloud, and she shuddered, drew him sharply from the rotting end of the planks giving way to the sea.
"Time to go," she told him.
"I want to watch until we can't see it anymore," he said.
He hadn't been told that Japan was at war with China, that Germany had invaded Poland, or that France and Britain had declared war on Germany. His innocence made her feel guilty, as though by encouraging his fidelity to the planes she were somehow betraying him. But she was being silly, she knew, imagining that these planes were doomed. "War will never come here," the sessions judge had told her, after listening to his nightly English radio program. "It's Malaya the Japs want. There's no penetrating our territory but by sea, and when it comes to the sea the British are unsinkable."
"I have a surprise for you at home," she lied to the boy. She shielded her eyes from the glare and tried to give him her most convincing smile.
The boy studied her for a moment. "What surprise?" he said.
"I'll tell you when we're there."
There was no surprise, of course, and as they stumbled back toward land over the splintered planks (as she stumbled away from the unbidden image of her body slipping into the shivering waves), she kept her eyes on her feet and searched her mind for some small treat the boy might deem acceptably unforeseen. He was already beginning to doubt her reliability. Perhaps the maid had bought a few cream puffs from the Indian who came around on Wednesdays.
She was halfway to the shore again when she looked up and saw the officer watching her intently from the other side of the wooden gate leading to the jetty. His white hat cocked to one side, he leaned against the rickety gate as though to block her path back to land. Even
across the distance, she could see he didn't hesitate to scrutinize her hips, her hair. If any other man had stared at her in such a way, virtually eating her with his eyes, she would have—well, she would have laughed.
The officer suddenly shouted at her, coming out with a confusion of English words of which she clearly caught only "not"—something he said with great emphasis and at least twice. He was surely instructing her to steer clear of the jetty (the way he further cocked his head and pointed away from the water told her as much), and his loudness and directness should have offended her; yet there was something mellifluous, some kindness, in his baritone voice.
She stopped five feet from the gate, taking the boy's warm hand in hers, and steadying herself against a fresh assault of wind and sea spray. The officer's gaze narrowed now on her eyes, and she felt herself blush as she absorbed the full force of his face—the heavy jaw, the mouth too full to be truly masculine, the ears that stuck out beneath the brim of his hat. There was nothing extraordinary about his version of handsomeness, about his large features (though he did have something of the elephant about him!); there was nothing unusual about his authoritative claiming of the port (all the officers seemed to claim Burma, as if they were not also subjects of His Majesty the King of England). But she had to admit that he was more striking than she had imagined him from afar. What was so very unforeseen (what she must have noticed without noticing) was the expression of meekness in his eyes, markedly in contrast to his obvious physical strength. Even the smile that he now leveled at her own lips, and that she unwillingly returned, seemed aggrieved.
"Are we in trouble, nanny?" the boy asked.
"Perhaps," she said quietly.
_
Continue reading Miss Burma at Europe Now.
Read more about Charmaine Craig
---
From "HOMESTEAD LOCKOUT"
—David Gewanter
CARNEGIE: WEALTH GOSPEL
Wealth, passing through the hands
of the few, becomes the property
of the many, ensuring the survival
of the fittest in every department.
There are higher uses for surplus wealth
than adding petty sums to the earnings
of the masses . . . frittered away in things
pertaining to the body and not the spirit:
richer food and drink, better clothing,
more extravagant living. Things external
and of the flesh . . . .
LEDGER AFTER HOMESTEAD: EARNED & SPENT
1892-1899: Value of Carnegie products: +226%.
Percent of revenues paid to workers: – 67%.
1892: men who lifted, hauled, and shoveled.
1899: scooping machines, automatic car dumpers,
barrows, electric trolleys, overhead cranes—
Workforce reduction: 25%.
1901: Carnegie Steel sold to JP Morgan; becomes US Steel.
Andrew Carnegie, "the richest man in the world."
NIETZSCHEAN:
"This is the hardest of all:
To close the open hand out of love"__
1883-1929: Carnegie libraries funded: 2,509.                                    überman of charity
Carnegie funds given to the poor: 0.                                                     and deprivation
—
From Fort Necessity (University of Chicago Press, 2018)
Read more about David Gewanter
---
Listen to the Seminar
Watch the Reading