Aracelis Girmay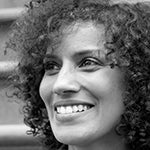 Aracelis Girmay received her BA in documentary studies from Connecticut College and an MFA in poetry from New York University. She is the author of The Black Maria (BOA Editions, 2016), Kingdom Animalia (BOA Editions, 2011), and Teeth (Curbstone Books, 2007). She is also the author/illustrator of the collage-based picture book changing, changing, which was published by George Braziller in 2005. Girmay has received grants and fellowships in support of her projects from the NEA, Civitella Ranieri, the Jerome Foundation, the Watson Foundation, and the Cave Canem Foundation, among other programs. She has taught at Queens College, is currently on the faculty of Drew University's low residency MFA program, and is Assistant Professor of Poetry at Hampshire College.
---
Break
When the boys are carnivals
we gather round them in the dark room
& they make their noise while drums
ricochet against their bodies & thin air
below the white ceiling hung up like a moon
& it is California, the desert. I am driving in a car,
clapping my hands for the beautiful windmills,
one of whom is my brother, spinning,
on a hillside in the garage
with other boys he'll grow old with, throw back.
How they throw back their bodies
on the cardboard floor, then spring-to, flying
like the heads of hammers hitting strings
inside of a piano.
Again, again.
This is how they fall & get back up. One
who was thrown out by his father. One
who carries death with him like a balloon
tied to his wrist. One whose heart will break.
One whose grandmother will forget his name.
One whose eye will close. One who stood
beside his mother's body in a green hospital. One.
Kick up against the air to touch the earth.
See him fall, then get back up.
Then get back up.
–
From The BreakBeat Poets: New American Poetry in the Age of Hip-Hop (Haymarket Books, 2015).
---
Links
---
Media
Seminar with Ada Limón | February 28, 2017
Reading with Ada Limón | February 28, 2017