Aleksandar Hemon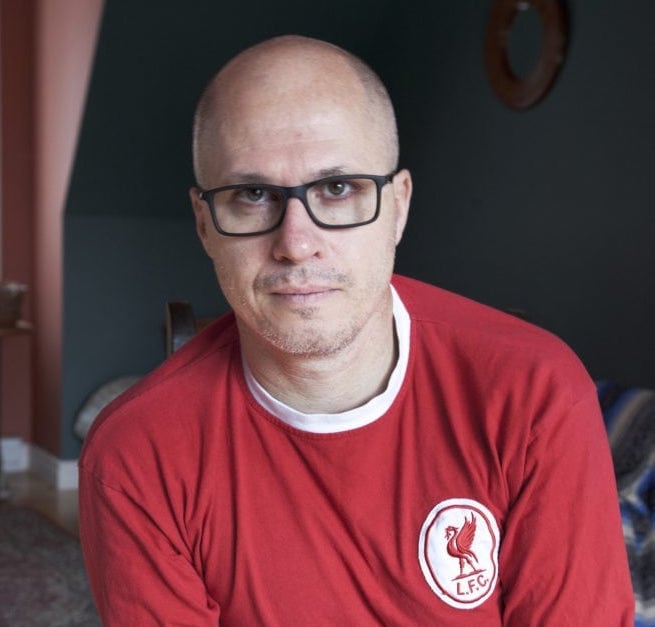 Aleksandar Hemon is the author of The Lazarus Project, which was a finalist for the 2008 National Book Award and National Book Critics Circle Award, and three collections of short stories: The Question of Bruno; Nowhere Man, which was also a finalist for the National Book Critics Circle Award; and Love and Obstacles. His other works include two books of nonfiction, My Parents: An Introduction and The Book of My Lives, the novel The Making of Zombie Wars, journalism, screenplays, and content for the Netflix original show Sense8. Born in Sarajevo, Hemon visited Chicago in 1992, intending to stay for a matter of months. While he was there, Sarajevo came under siege, and he was unable to return home. Hemon wrote his first story in English in 1995. He was awarded a Guggenheim Fellowship in 2003 and a "genius grant" from the MacArthur Foundation in 2004. Hemon is currently Professor of Creative Writing in the Lewis Center for the Arts at Princeton University.
---
From The Book of My Lives
THE LIVES OF OTHERS
1. WHO IS THAT?
On the evening of March 27, 1969, my father was in Leningrad, USSR, in pursuit of his advanced electrical engineering degree. My mother was at home, in Sarajevo, deep in labor, attended to by a council of her women friends. She had her hands on her round belly, huffing and crying, but the council didn't seem too worried. I was orbiting around her, exactly four and a half years old, trying to hold her hand or sit in her lap, until I was sent to bed and ordered to sleep. I defied the order so as to monitor the developments through the (somewhat Freudian) keyhole. I was terrified, naturally, for even if I knew that there was a baby in her stomach, I still didn't know how exactly it was all going to work, what was going to happen to her, to us, to me. When she was eventually taken to the hospital in obvious and audible pain, I was left behind with terror-provoking thoughts, which teta-Jozefina tried to counter with the guarantees that my mother would not die, that she would come back with a brother or sister for me. I did want my mother to come back; I did not want a brother or sister; I wanted everything to be the way it was, the way it already used to be. The world had harmoniously belonged to me; indeed, the world had pretty much been me.
Continue reading The Book of My Lives at Macmillan. 
---
Links
---
Media
Writing in a Time of Crisis –2022 Lannan Symposium | March 23, 2022
Can America Survive Capitalism? –2022 Lannan Symposium | March 23, 2022
Reimagining the American Narrative –2022 Lannan Symposium | March 23, 2022
Keynote Speech by Aleksandar Hemon | March 27, 2017
Writing in the Englishes | March 28, 2017
The Sporting Spirit: Does Sport Unite or Divide? | March 28, 2017