Clint Smith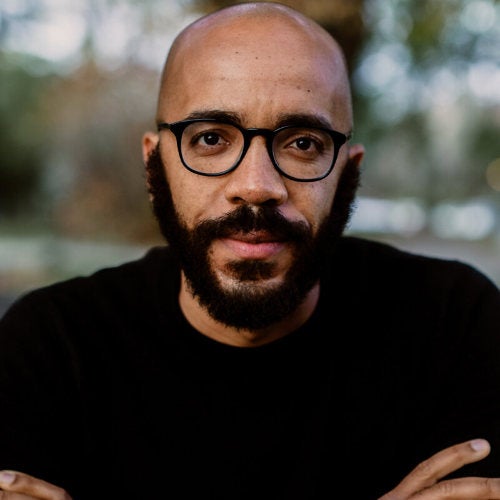 Clint Smith is a staff writer at The Atlantic. He is the author of the narrative nonfiction book, How the Word Is Passed: A Reckoning With the History of Slavery Across America, which was a #1 New York Times Bestseller and was longlisted for the National Book Award. He is also the author of the poetry collection Counting Descent, which won the 2017 Literary Award for Best Poetry Book from the Black Caucus of the American Library Association and was a finalist for an NAACP Image Award. Clint received his B.A. in English from Davidson College and his Ph.D. in Education from Harvard University.
---
From How the Word is Passed
Most of the people who come to Blandford Cemetery, in Petersburg, Virginia, come for the windows—masterpieces of Tiffany glass in the cemetery's deconsecrated church. One morning before the pandemic, I took a tour of the church along with two other visitors and our tour guide, Ken. When my eyes adjusted to the hazy darkness inside, I could see that in each window stood a saint, surrounded by dazzling bursts of blues and greens and violets. Below these explosions of color were words that I couldn't quite make out. I stepped closer to one of the windows, and the language became clearer. Beneath the saint was an inscription honoring the men "who died for the Confederacy."
Outside, lawn mowers buzzed as Black men steered them between tombstones draped in Confederate flags. The oldest marked grave at Blandford dates back to 1702; new funerals are held there every week. Within the cemetery's 150 acres are the bodies of roughly 30,000 Confederate soldiers, one of the largest mass graves of Confederate servicemen in the country.
From 1866 into the 1880s, Ken told us, a group of local women organized the tracking-down and exhuming of those bodies from nearby battlegrounds. "They felt that the southern soldier had not been treated with the same dignity and honor that the northern soldiers had," and they wanted to do something about it. Most of the bodies were not identifiable; sometimes all that was left was a leg or an arm. Nonetheless, the remains were dug up and brought here, and the ladies refurbished the old church as a memorial to their fallen husbands, sons, and brothers.
Tiffany Studios cut them a deal on the stained glass: $350 apiece instead of the usual price of about $1,700 ($51,000 today). Thirteen southern states donated funds. Ken outlined the aesthetic history of each window in meticulous detail, giving each color and engraving his thorough and intimate attention. But he said almost nothing about why the windows were there—that the soldiers memorialized in stained glass had fought a war to keep my ancestors in chains.
Continue Reading from How the Word is Passed
---
Links
"How the Word is Passed Review: After Tulsa, Other Forgotten Atrocities." The Guardian, 12 June, 2021
"How The Word Is Passed Teaches The Importance Of Reckoning With History." NPR, 2 June 2021
"How America Remembers––and Distorts––Its Slavery Past." New York Times, 1 June, 2021
"'Slavery Wasn't 'Long Ago': A Writer Exposes The Disconnect In How We Tell History." NPR, 1 June 2021
Media
Who Are We & Where Are We Coming From? –2022 Lannan Symposium | March 23, 2022